Sideways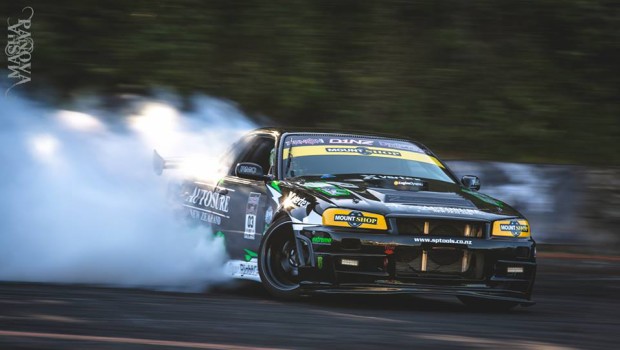 Published on November 14th, 2014 | by mrgrumpyninja
0
Rattla Motorsport rise to the top
Mt Smart stadium has proven a happy hunting ground for Rattla Motorsport driver Curt Whittaker, as he climbed to the top of the podium once again late on Saturday night. Anyone who had questioned the decision by the team to move to a 410ci Ford Nascar engine in the Autosure R34 skyline now dubbed " RATTLU" would have been eating a combination of words and smoke, as Curt effortlessly powered his way around the purpose built track in a haze of Achilles tire smoke. With team mate Shane Allen continuing to look more and more comfortable in the SP Tools Rattla Falcon, it was a good weekend for the team who were as always backed by a very vocal fan base.
Both drivers quickly settled into practice and set about finding the ideal line or at times stepping over it which resulted in a few tail lights needing to be pulled from the parts trailer. Shane Allen was clearly more confident than in past knowing that he had performed well at the 13/14 season closer at the same venue,  while Curt was testing to see if the team had got on top of balance issues found at round 1. With Curt scoring a qualifying result of #3 just behind Cole Armstrong and Gaz Whiter, it seemed they well and truly had, while Shane was in P12 for the top 32 battles.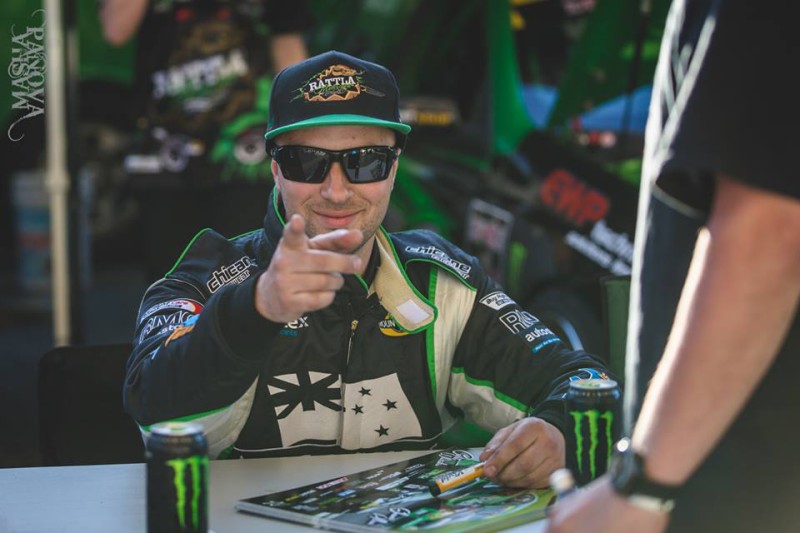 Curt earned a by run into the 16, while Shane battle with Wellingtons Matt Lauder in his 2JZ powered 180SX and got the win. This would set up a battle for the Rattla Falcon with Daynom Templemans monster Rx7, each time these 2 meet there is over 1500hp on display and it makes for an amazing aural experience of 2JZ Toyota engine vs Ford bark.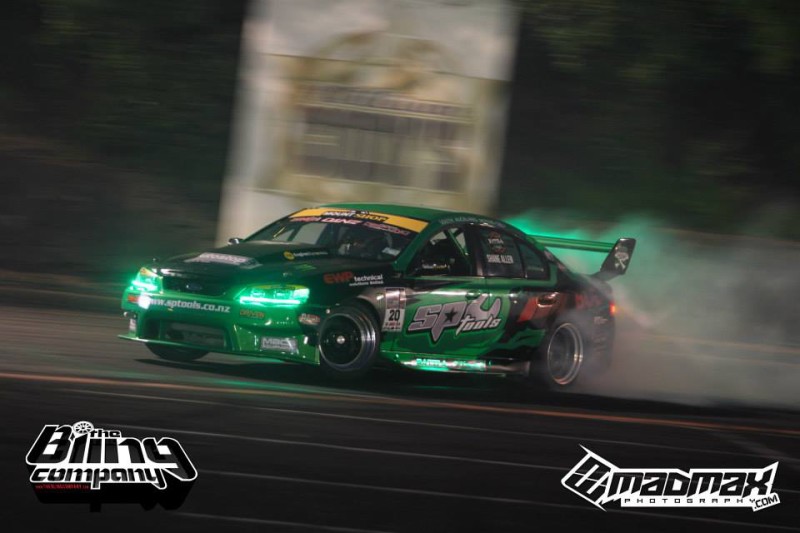 Shane looked to be well in the hunt but then made a small mistake sending the car into a spin and taking him out of the event. Its clear that he is benefiting from more seat time, and I'd expect him to feature at Hampton Downs.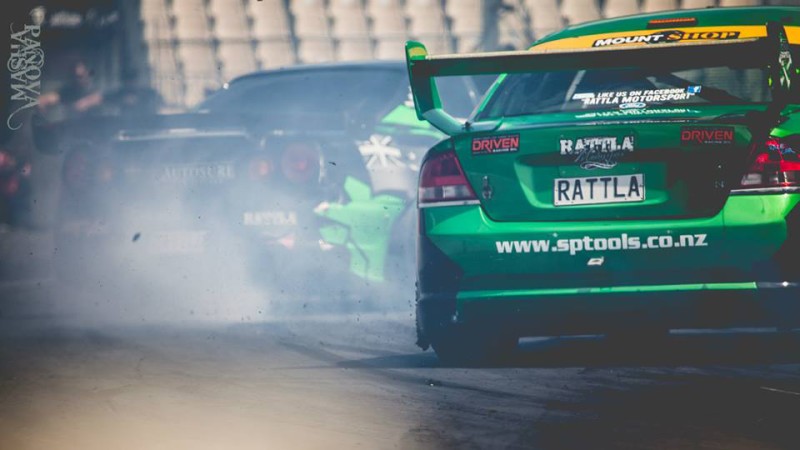 Curt sat and watched the top 32 and then came up against Jodie Verhulst, who was driving with new found aggression having watched her partner Drew Donovan have a massive crash. Jodie committed fully to her chase and was right on Curt until getting lost in his thick smoke trail and gently nosing her car into one of the switch barriers effectively ending the battle and putting Whittaker into the 8.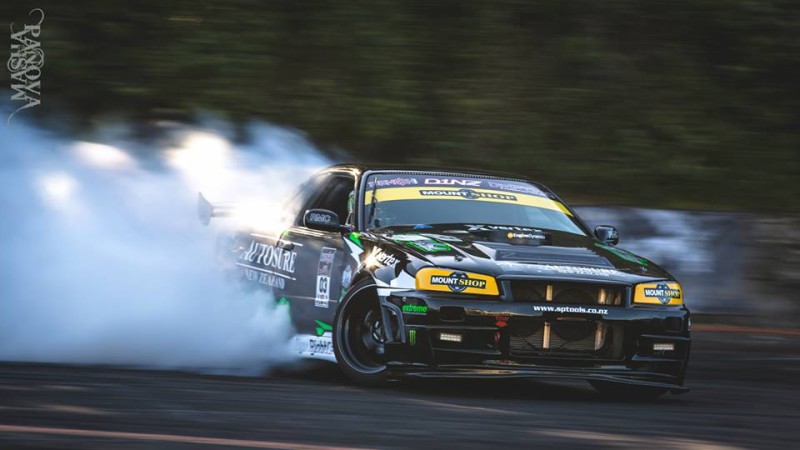 Curt would meet Andrew Redward next who was having an interesting night, always fast and aggressive but battling with a painful back injury, Redward spun not once but twice leaving Curt perhaps feeling like he was playing dodge rather than drifting.
A battle next with Gaz Whiter for a spot in the final would have appealed to any fan, as both have a long history and stellar wheel skills with no one ever knowing which way the contest will go. The Black & Green R34 a constant presence on Whiters rear bumper on the first run with Whittaker grabbing an advantage and putting all the pressure on Gaz to produce something special. Whiter knew it, and when both cars flew off the line it was going to be an all or nothing run, Whiter and Whittaker initiating side by side at very high speed with Curt on the right line and Whiter a small margin over it which sent his car into the wall and out of the battle.
A final with Daniel ' Fanga Dan' Woolhouse the last act of the night, and Curt as the higher qualifier would lead first and lay down a run that put the pressure on Woolhouse, who had been going faster and faster as the night went on. An anxious crowd waited for the final act and as both cars sailed down the entry straight, Fanga Dan got it wrong and spun in front of a hard chasing Whittaker who slid the Autosure Slider to a halt with the gentlest of touches and then proceeded to engage in a rolling burnout to the delight of the crowd, knowing that he'd done enough to grab 100 championship points and the round win.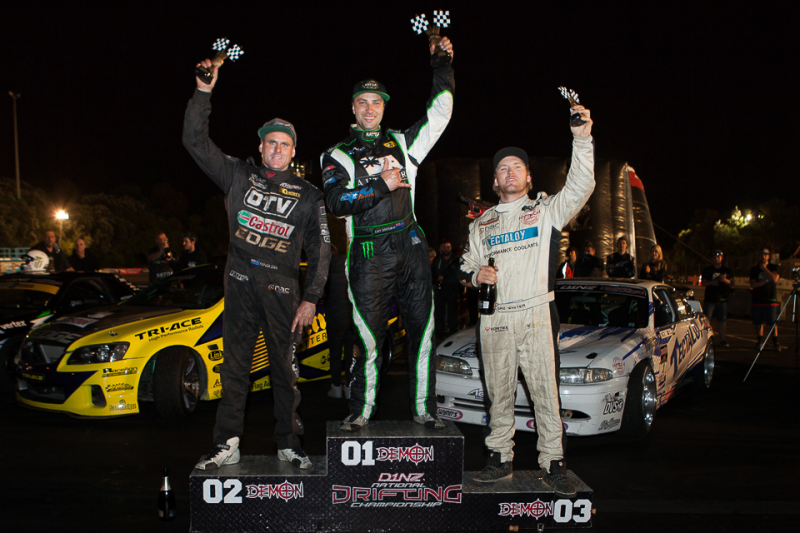 Ecstatic at the win and a little lost for words, Curt thanked his team, sponsors and his family via the live stream interview and was clearly a happy man as the night came to a close.
Rattla Motorsport would like to thank all their fans & sponsors for ongoing support and invite you to follow the team on Facebook for all the latest updates
https://www.facebook.com/rattlamotorsport?fref=ts
or
https://www.facebook.com/pages/Curt-Whittaker/58144934663?fref=ts
*Photos appear care of Maria Panova Photography and may not be used without permission