Dirt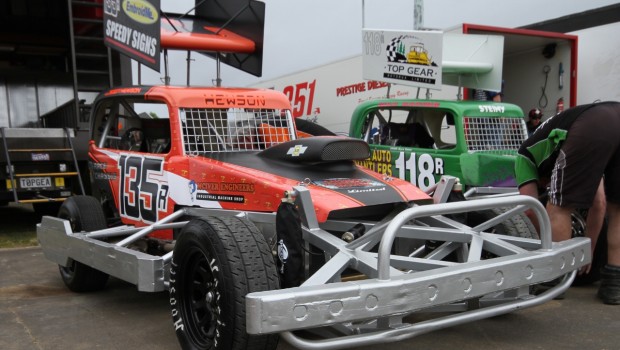 Published on January 24th, 2012 | by mrgrumpyninja
3
NZ superstocks- Huntly 27/28 Jan 2012
For many of our readers, this event won't even be on the radar. It's Nationals weekend after all for the import community and most interest lies within the show halls of greenlane and the quarter mile of tarmac known as Fram Autolite Dragway.
In the speedway community however it's business time, as arguably the most important title of them all is decided over 3 heats around a dirt oval out the back of Huntly in front of  a crowd baying for Palmy Blood, and cheering on their local heroes.
Normally I'd try a do some sort of preview, but one of the great things about superstock racing is that it's really impossible to do. Not many motorsports allow you to actively impact your own or your team mates destiny with a bumper placed here, or a well timed block on a faster rival but Superstocks do, so while the "favourites" will rise to the occasion and be in the title race on Saturday night, it is often those out of the running who dictate the outcome.
Story images by goslideways tv, AWS graphics and various other sources including official FB fan pages.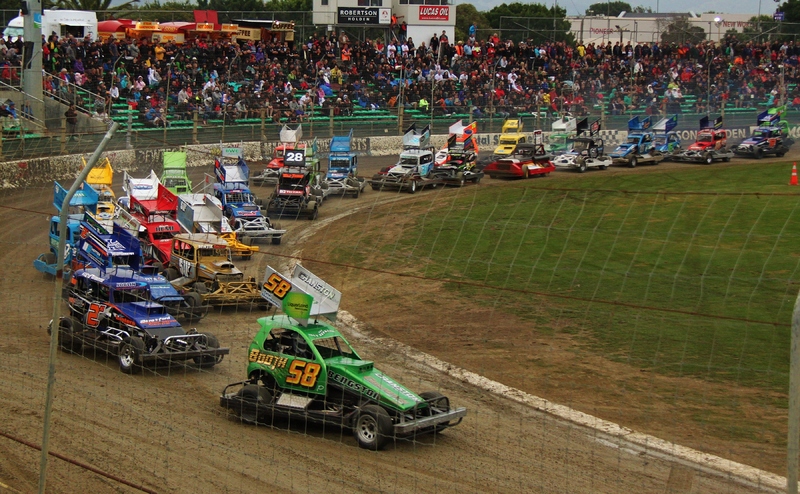 So where does would the smart money lie then? Well everywhere really depending where you hail from so let's just grab at a few names who I think might feature. Clearly the guy leading in the first picture, Palmy's Peter Bengston is going to be a threat with speed,current season form and a great ability to read a race. Many say he's the best teams racer around, can he add the major individual title to the cabinet?
Also a talking point is the return of talented driver,current midget car pilot and a man known not to be afraid of placing a hit, Jared Wade. Seated in the still for sale Red Waka 2 as 859p, Wade is likely to figure one way or another on a track he knows well.  This is a pretty cool poster done by AWS Graphics for Jared and stablemate Wayne Hemi, which you can get hold of this weekend.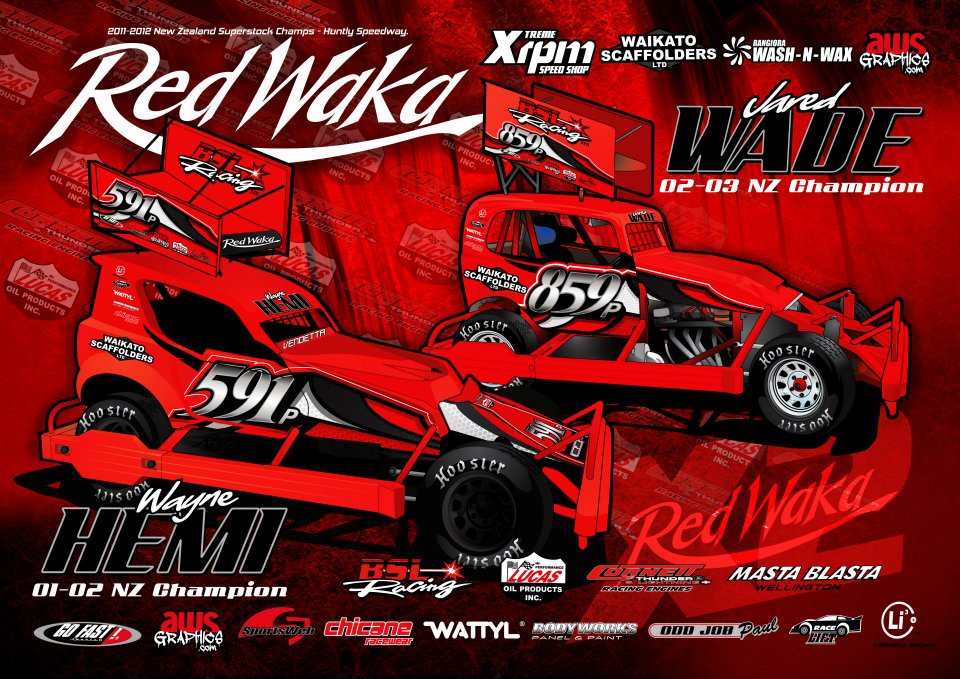 Speaking of Mr Hemi, only a fool would not expect him to be sniffing around the silverware. Baring mechanical issues, Hemi's concern might perhaps be that his class is so well known due to his multiple title wins, that without a little help he will be forced to drive more for survival than to extract maximum speed from the new Vendetta Chassis.  Be interesting to see if team orders come into play and where loyalties lie given the strong Palmy contingent likely to be in attendance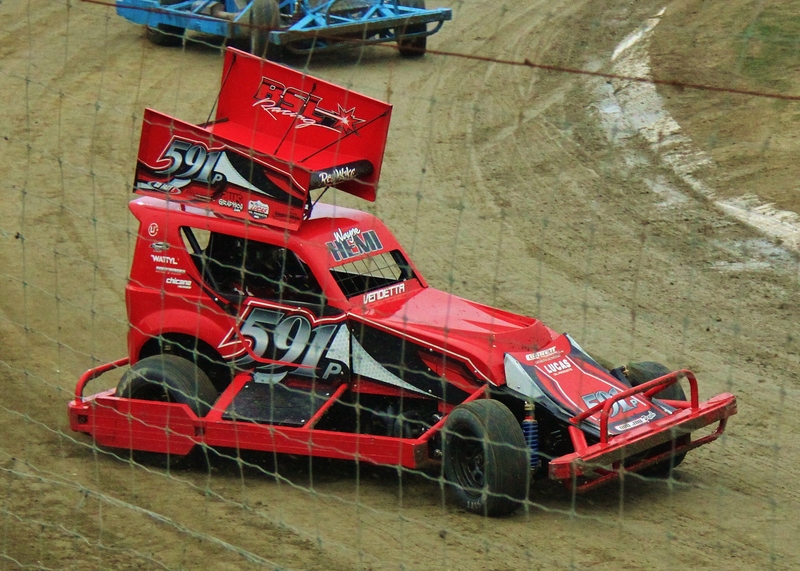 Many eyes will also be on 3 time title holder Craig "the boss" Boote. Boote and Hemi have the 2 most talked about cars in the country,  and both drivers polarise opinion. Nelson drivers are known to work together, so logic says if at least 3 of them get through, the chances of a podium for at least one are good.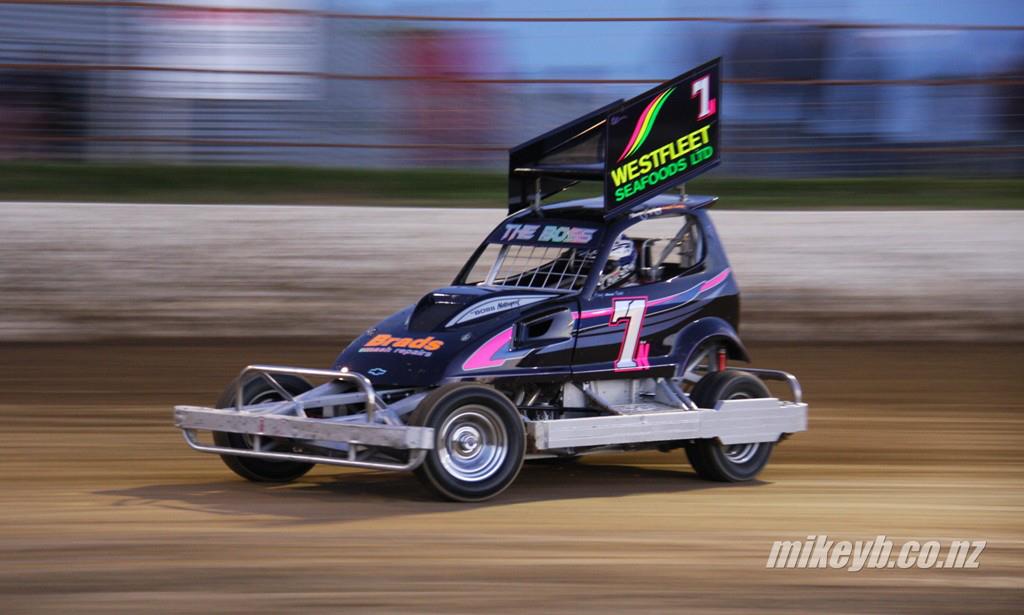 Probably a good time to add in defending champion Dale Ewers, in the DERT racing machine.  I am not sure if Ewers has ventured north over this wet summer to test himself, but he's always a force at the teams champs and will be a factor if in the final 26 in a similar manner to Wade.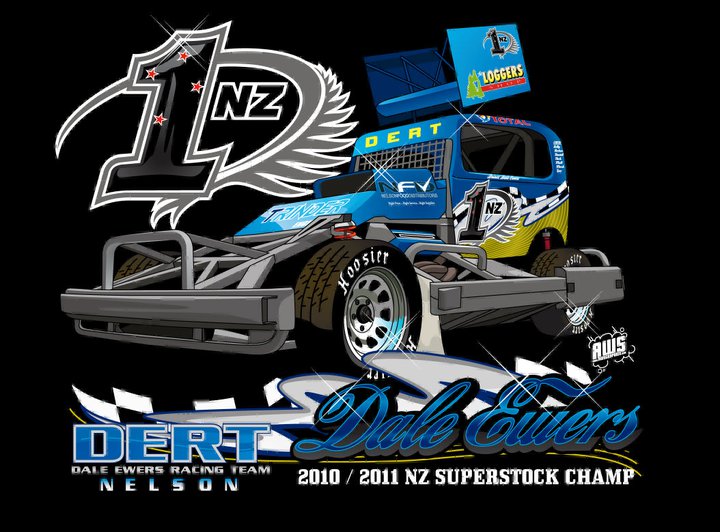 Always a contender but yet to grab the big one is Shane Penn in the *insert colour here* Bullet. The Penn family are one of the great names of stockcar racing and perhaps this might be Shane's year in the # 7 Nissan powered rocket ship. Winning the recent Global Challenge will increase confidence if that was at all needed.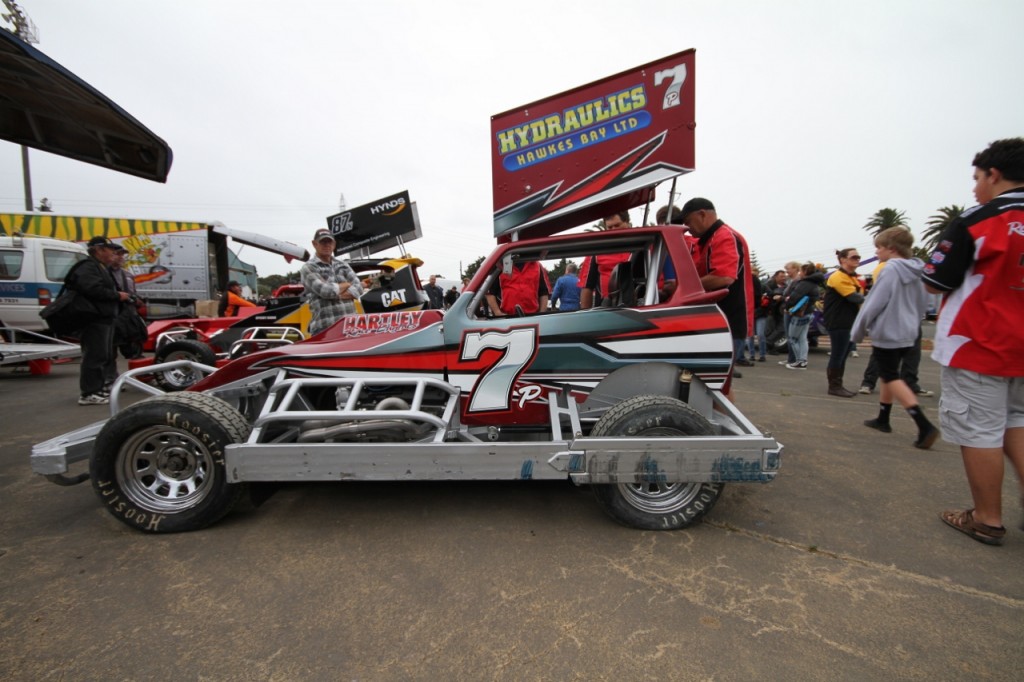 Only someone who is very brave would discount Malcolm Ngatai's chances. The man from Christchurch has been a travelling ambassador for speedway over the past few years committing to racing in the north to further his craft, and with one title under his belt, he'll be aiming for more. Ngatai is probably the one guy actually enjoying the fact all the e-hate is aiming at Hemi and Boote currently.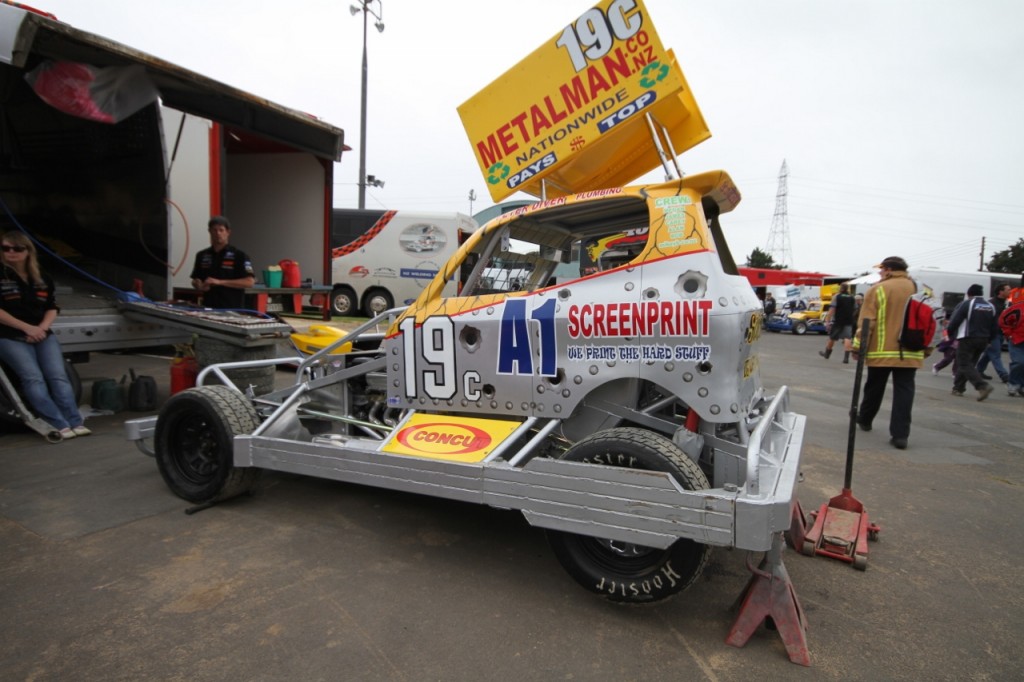 I could keep going forever, and I happen to have an image sitting here of Rotorua's Scott Hewson, so I'll throw him in as a rough chance if the cards fall his way, the Top Gear chassis is fast and Hewson will have other R car's in the final.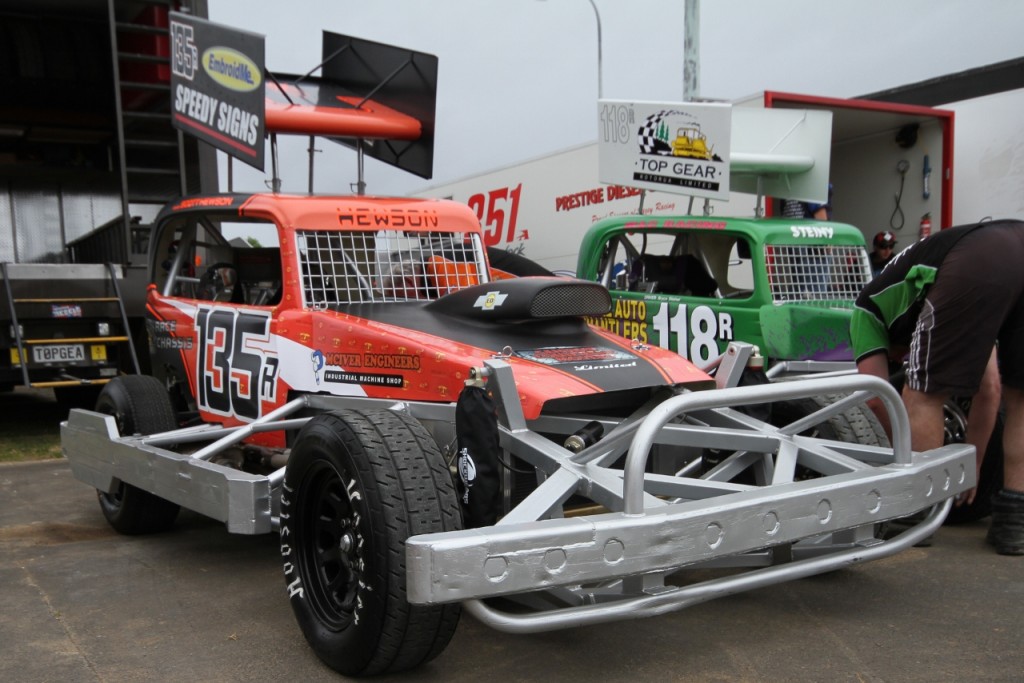 Last image I'll throw up is the current "man" in NZ Stockcar racing , Peter Rees. Chassis Builder, Hitman, Flag Racer, call him what you want, Rees has made an undoubted impact and could achieve a never before done feat of being Superstock and Stockcar champion in the same year.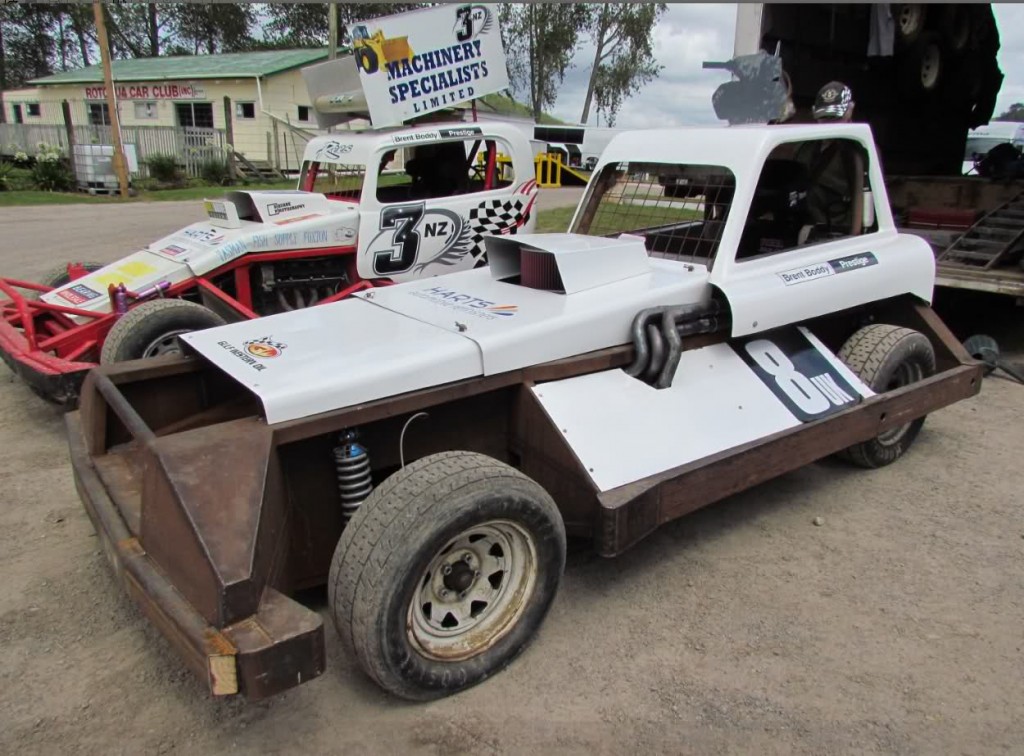 Wow…thats only a handful of cars, and I haven't even mentioned Graham Barr, Joe Faram, the Joblin Bros, Royden Collingwood, Scott and Jack Miers or any one of a handful of other drivers who could all turn the event, and their opponents on its head.
That's why I love superstocks, the predictable outcome that you can't predict the outcome
Good luck Gentleman, may the best man and machine win.