Sideways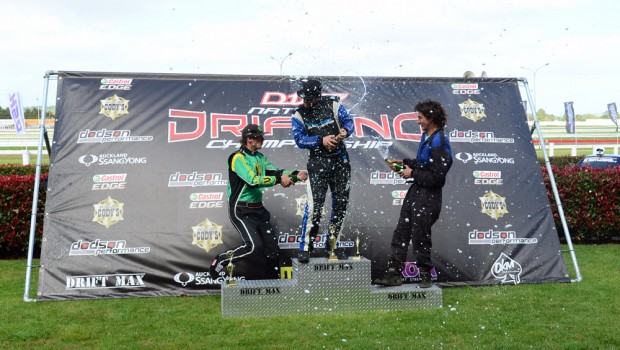 Published on October 16th, 2012 | by mrgrumpyninja
0
MGNs 2012/13 D1NZ Season Preview
It's almost that time of year, after a long off season in the shed and a bit of time away for R & R the boys and girls that are NZ Drifting culture get ready to bring the noise in the 10th anniversary season of the D1NZ National Drifting Championship.
Having just come off the closest championship season ever, D1NZ is well positioned to put on a marquee season over the summer of 2012/13 with events at 6 tracks, including a return to the South Island and 36 pre-registered pro drivers. Throw in a handful of single event only competitors and the development of 30+ pro-ams over the course of the season. Its safe to say that We are in for a hell of a ride and I'm quite happy that I will be there to call all the action.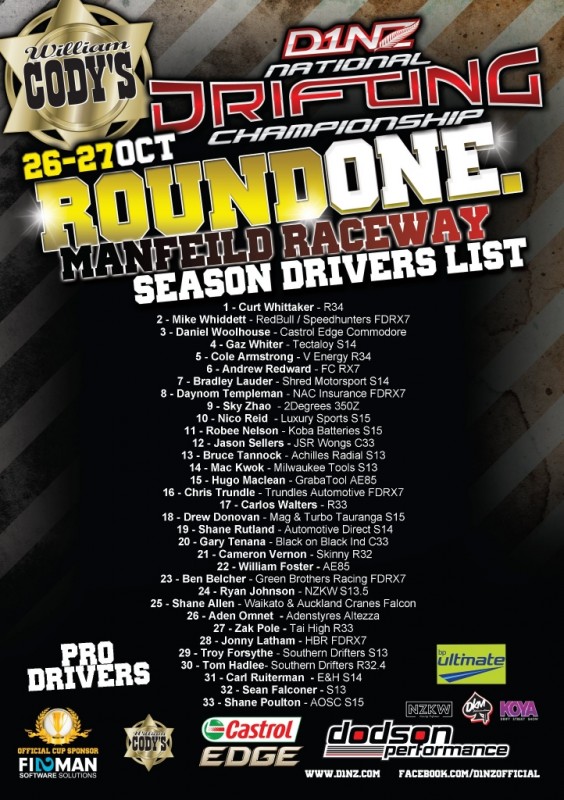 I thought I'd take a look at the drivers entered and try and provide a few thoughts on each driver. Some of you will agree, a lot of you won't , and that's what makes our drift fans some of the most knowledgeable and best around. Don't like it, well come to the events and yell up at a storm for your drivers,  there is nothing better that putting on a show in front of a crowd who is right into the moment.
Here we go….
1 - Curt Whittaker – Whittaker Motorsport R34
The reigning DK will be the man to beat. The 2jz heart in the black monster barely misses a 530kw beat and Whittaker is the best in the game at hitting consistent lines. The challenge for the team will be to rise again to the prospect of a hungry field after such an emotion fuelled prior season and an Australian campaign that didn't go well. Word out of the Whittaker camp was that they needed to land some sponsorship soon or the champ may look to sit out some rounds to chase future offshore goals.  Will need to get off to a good start at Manfield where he finished outside the top 8 last year.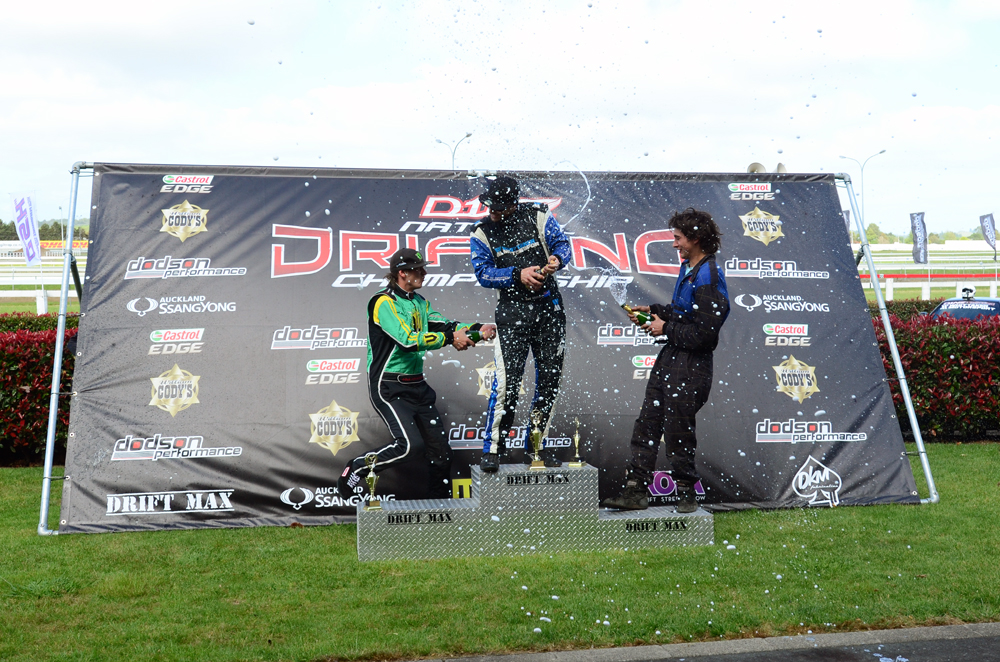 2  'Mad' Mike Whiddett - RedBull FDRX7
Whiddett would be disappointed at missing out on his first DK title last season, and while he is yet to confirm a full D1NZ program pending offshore commitments, he will be real threat if he does the full season. With both the RX8 and RX7 currently in NZ, he is spoilt for choice over which car he competes in. Throw in Nitto NT05 tires and superb engine response, and either of Whiddetts cars are probably the quickest accelerating in the field.
3 – Daniel 'Fanga Dan' Woolhouse - Castrol NZ Commodore
Fanga Dan has been around NZ drifting as long as there has been NZ drifting. Drift king back in 2006, Woolhouse had probably faded a little into the background with Driftcorp team mate Gaz Whiter grabbing 3 titles but starts this season ranked above him. He's one of those guys that people know is always a tough battle, not afraid to trade paint and 120% committed all the time. With sponsors on board well before the season for the first time in a few seasons, this may well be the season of a new more focused Fanga Dan, which makes him very very dangerous.  A new engine package and tune care of GDS should see the Commodore going harder than ever before. Has moved  to Achillies tires from GT Radial after successful testing in OZ.
4 - Gaz Whiter Drift - Tectaloy S14
You don't get to be 3 x NZ Drift King without a bit of talent, but what sets Whiter apart is that he knows he can beat you. The super competitive Whiter was not happy with failing to win a single round for the first time in 7 seasons, and I would expect a very driven Whiter to be at round 1 with perhaps a bit of a surprise. Will be on Toyo rubber again for the season which he knows and trusts.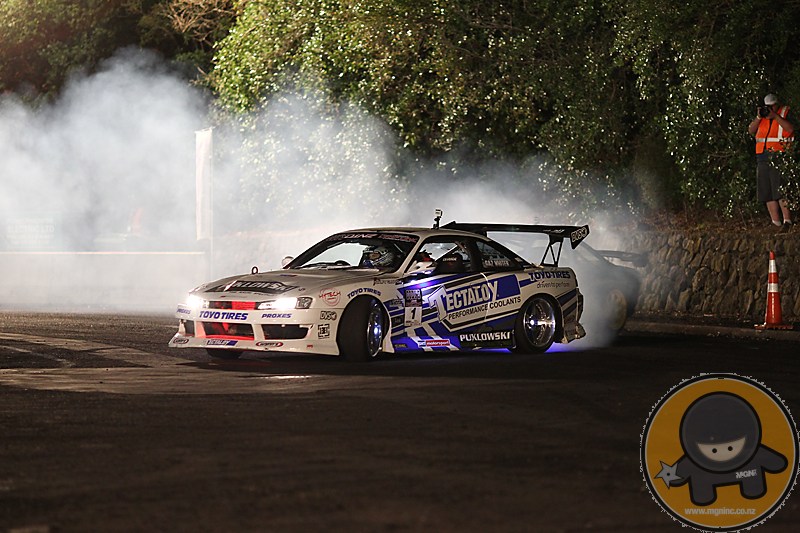 5 - Cole Armstrong - V Energy NZ R34
It could well be Cole's time to shine in 12/13. Armstrong has gained valuable seat time in China and Australia in challenging conditions, and had it not been for a couple of mechanical faults last year, Cole would likely have been right in podium contention. The V Energy R34 is a smoke machine, with about 480kw reportedly on tap, so chasing the green machine is going to be a challenge.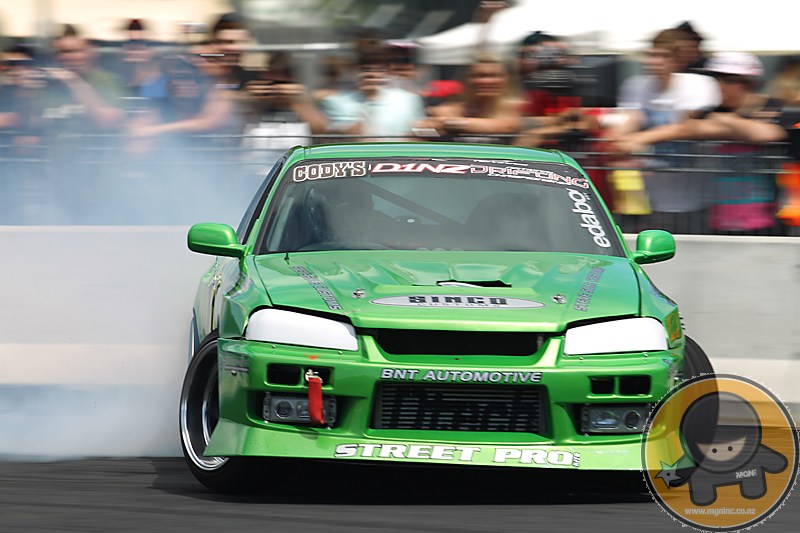 6 - Andrew Redward Racing - FC RX7
Redwards self-acknowledged issue has been going just that little bit too hard. The man awarded the 'angle king' has generally qualified well, only to have it come undone in battle due to a little over exuberance.  Back in the FC V8RX7, this car will again be an angle benchmark. Started last season really well and just needs some consistency and perhaps a little luck to be at the top.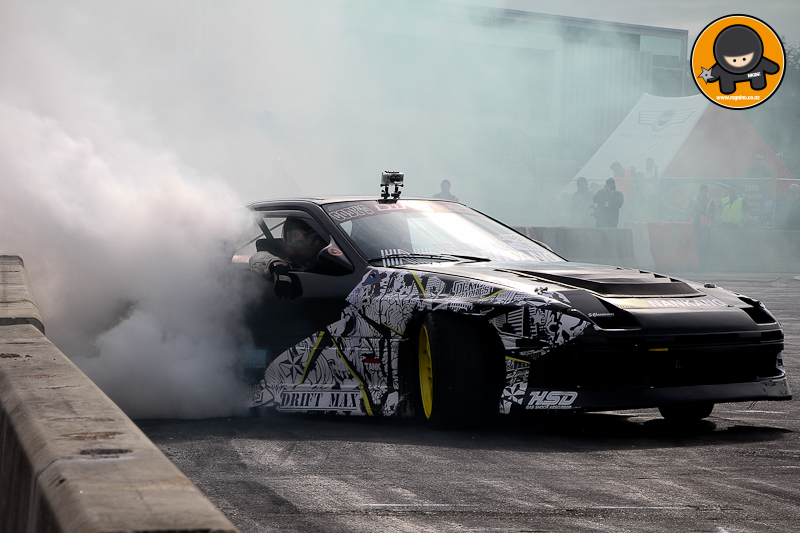 7 – Bradley Lauder – Shred Motorsport S14
More power, more useable revs, more…..luck? There is no doubting that things did go Lauders way last year, but to a degree you also make your own luck by not making mistakes and continuing to drift no matter what.  Lauder is one of those guys who is not overly spectacular, but just keeps going and that often results in solid event placings.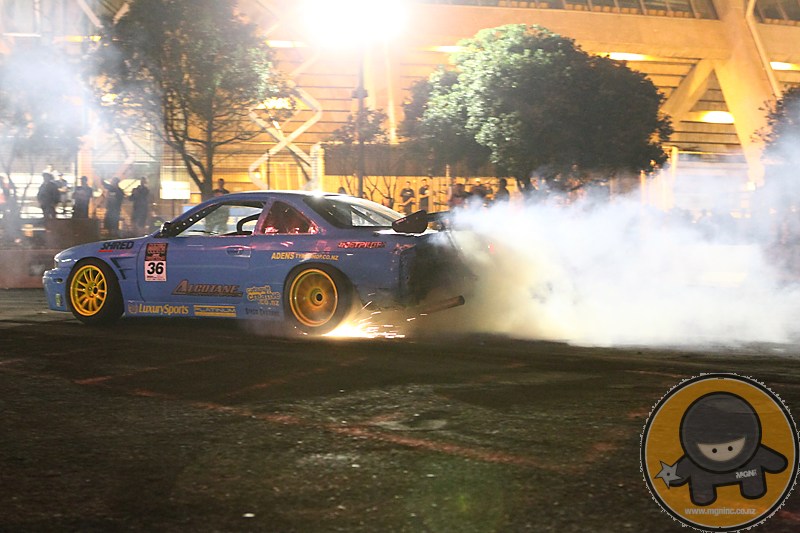 8 – Daynom Templeman – NAC Insurance FDRX7
This team would just be hoping for some mechanical luck. Winning the Taupo round was a shining light in a season the Templeman team wouldn't have been overly happy with. Daynoms circuit pedigree is best evidenced when tracks are wet, and if there is rain at any round, expect Daynom to be to the fore. Will not lack for power, speed or grip at any event.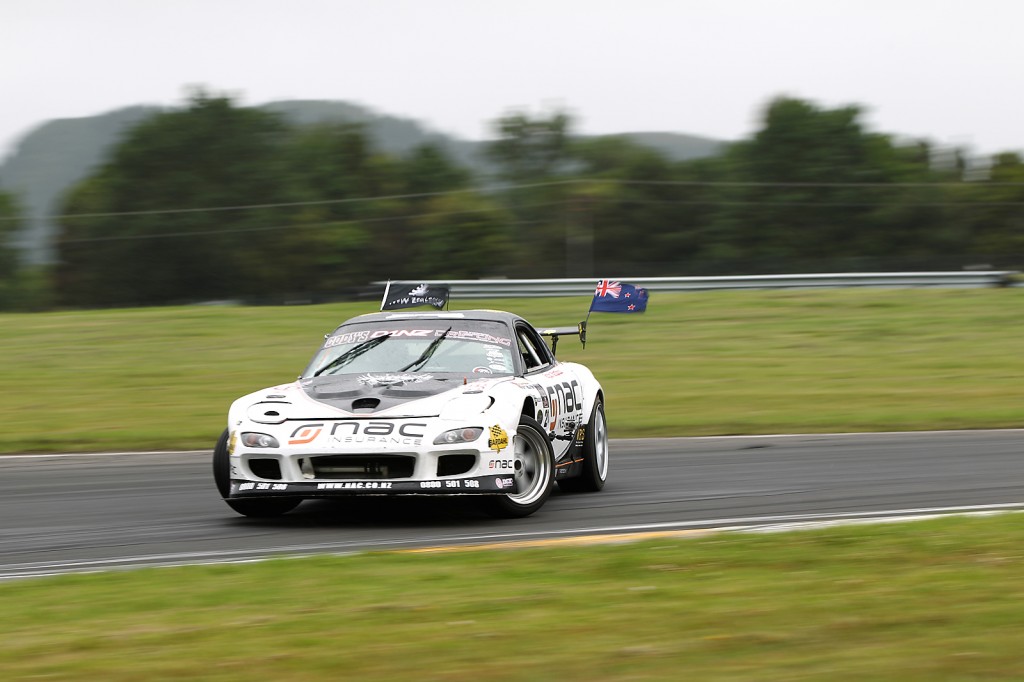 9 – Sky Zhao – 2Degrees 350Z
New car that is yet to be competition tested. Will take Sky a while to get that ultimate level of trust needed to battle to the later rounds. The v8 will make plenty of smoke, but some are questioning if it has the speed to threaten the top runners. Has had some issues with tires delaminating.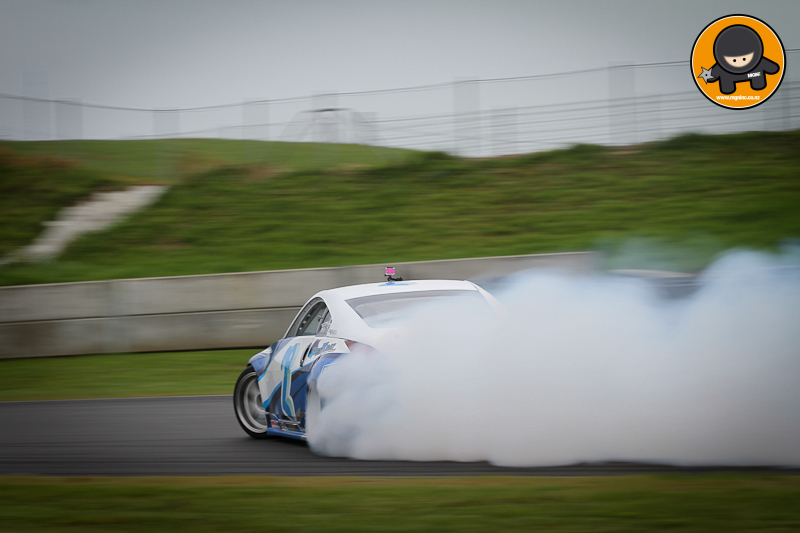 10 – Nico Reid – Luxury Sports S15
Would have finished higher up the table but had mechanical issues at the early rounds with a new car. Now has a lot more power and will need a gearbox that's up to his brutal never lift style. Nico's best chances will come at the street round in Whangarei and the very familiar Hampton Downs.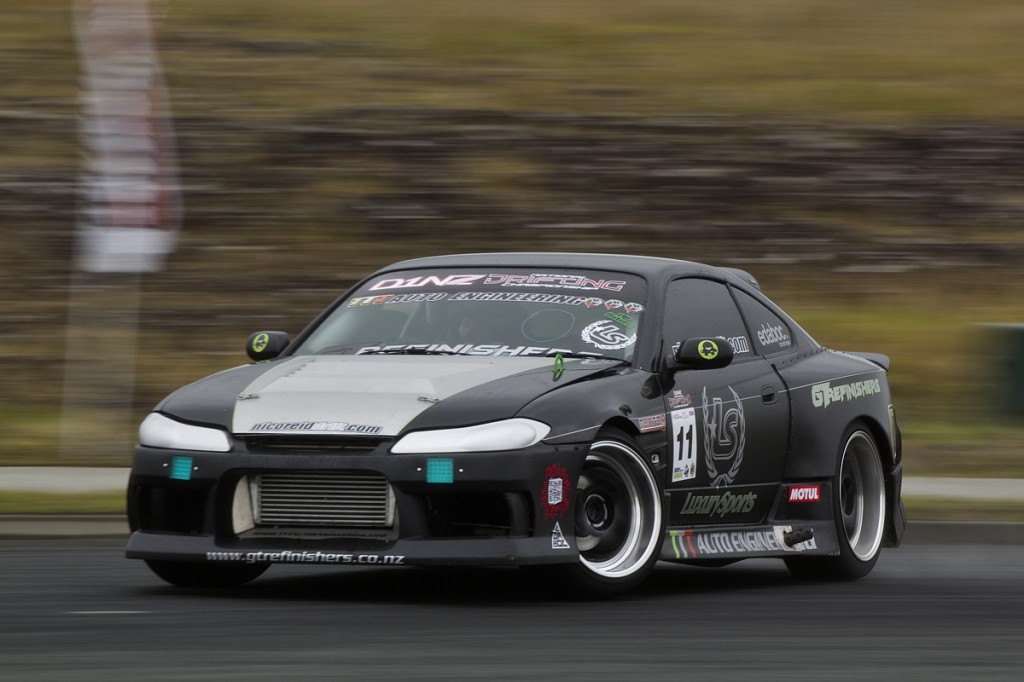 11 – Robee Nelson – Koba Batteries S15
Robee is still finding his way, but achieved a best result of 6th last year and will want to build on that in what is really the infancy of his drift career. Robee and his team have had a bit of off season work done at Tony Whiter Automotive, so will be wanting regular top 8s this season.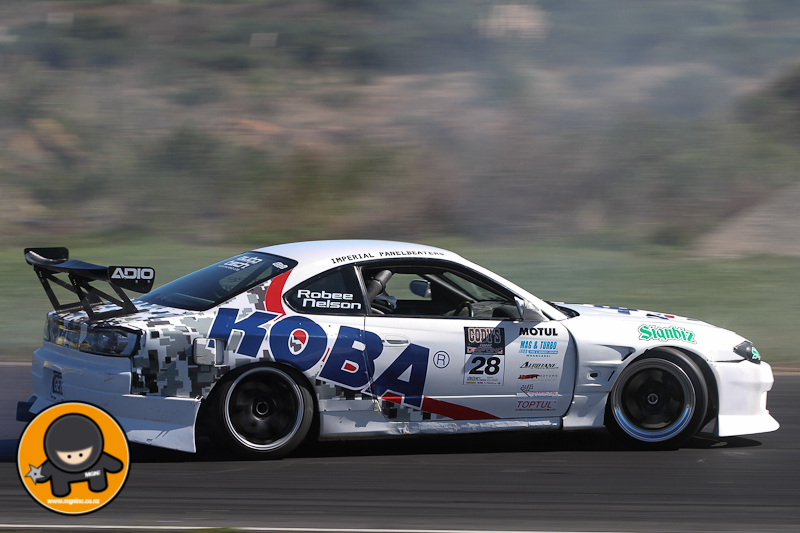 12 – Jason Sellers – JSR Wong's C33
If Jase didn't have bad luck, he'd have none at all. Since coming 2nd in NZ, he's pretty much almost destroyed the car and had all manner of motor issues. Showed class in Australia by adapting quickly to a tough track, and last season had a couple of solid results mixed with 2 DNS's. If the car behaves, expect Jase to be in the title fight with a strong 2JZ and a rebuilt MSE turbo providing the go power.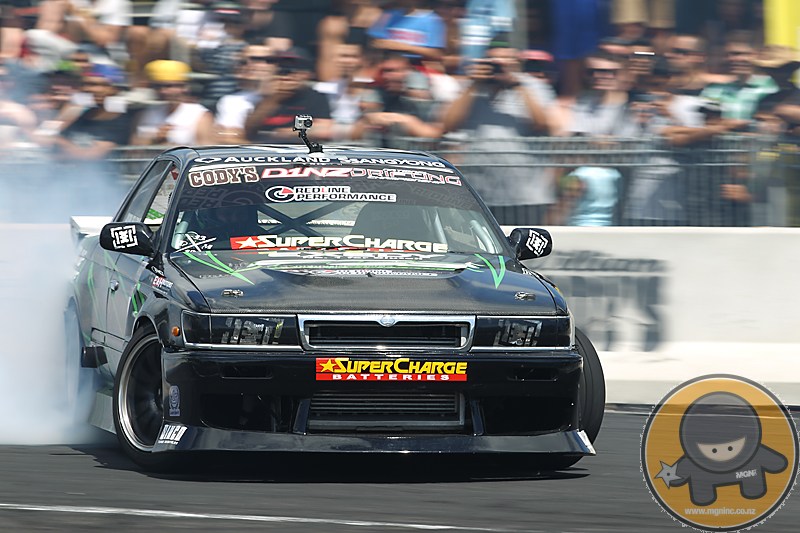 13 – Bruce Tannock – Achilles Radial S13
Recent 2nd place at NZ Drift may be what Tannock needed to kick-start his title challenge. Solidly engineered car that is among the very quickest in drifting NZ , Tannock would this year be aiming for a top 4 spot, and will have plenty of grunt and Achilles drift spec tires at his disposal.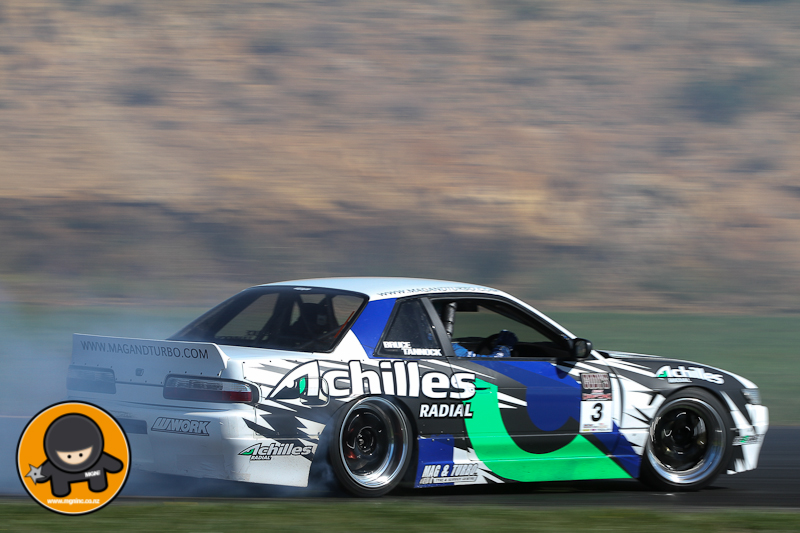 14 – Mac Kwok – Milwaukee Tools S13
Rebuilt after rebuilding, there were rumours of 700kw in the Milwaukee Monster. Season best result of top 8 won't cut it this season. New gearbox should remove the driveline issues and Kwok has said his focus this year will be just on driving rather than trying to get involved in running the car.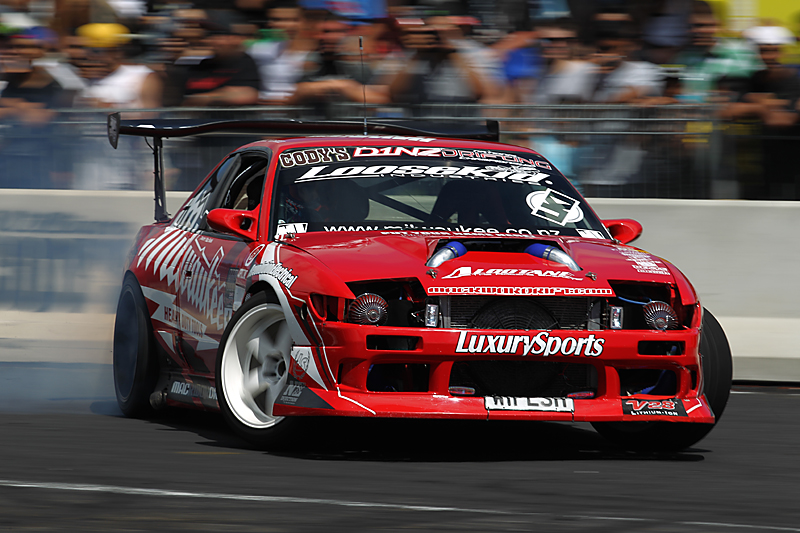 15 – Hugo Maclean – GrabaTool AE85
Has changed engine packages again, which will likely take some getting used to. 20b N/A will potentially also give the noise police someone to focus their attention on. Hugo showed at times last year that he has the talent to be a top 8 contender, perhaps this might be the coming of age for the 'tire slayer'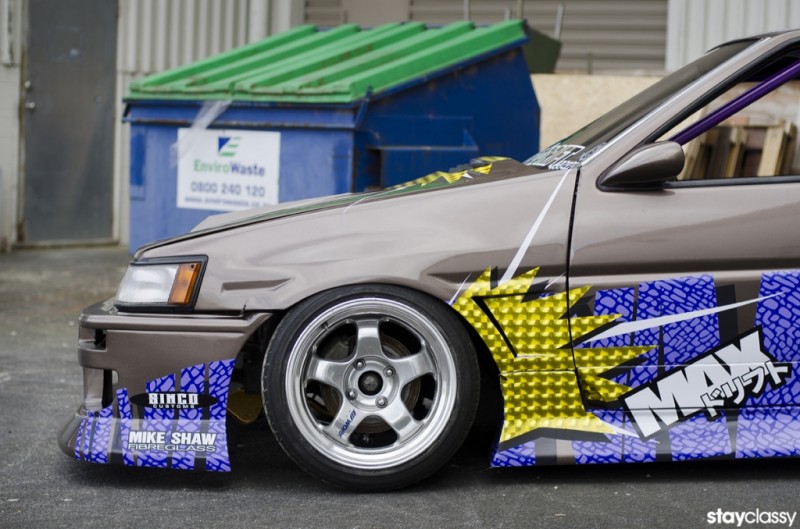 16 – Chris Trundle – Trundles Automotive FCRX7
Lots of mechanical issues last year, and didn't run a full campaign. FC RX7 is self built.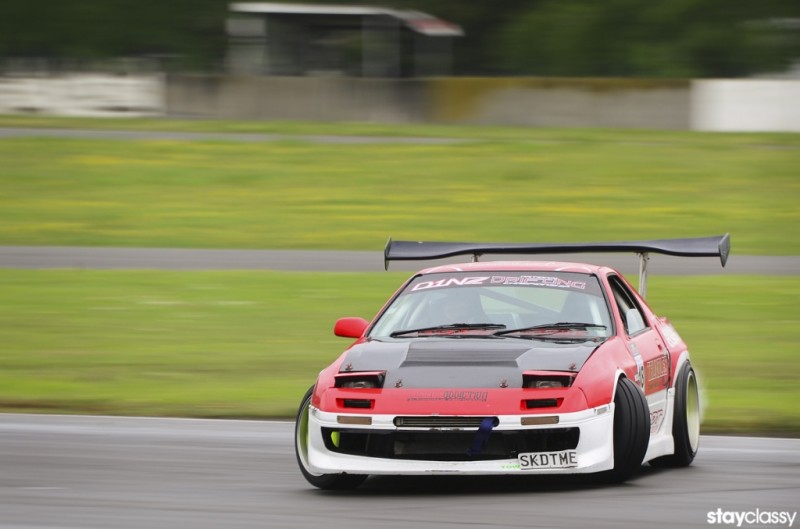 17 – Carlos Walters – R33
Carlos is most at home at Manfield, so is well placed to look for a much high overall result at round 1. Big R33 seems to perhaps lack the speed to take on some of the very top guys, which means Carlos needs to qualify well and lead battles where he can.
18 – Drew Donovan – Mag & Turbo Tauranga S15
Fully rebuilt the LS powered S15 in the off season and will focus on driving this year. Doni D has spent a lot of time developing drivers, and should do better than in previous seasons.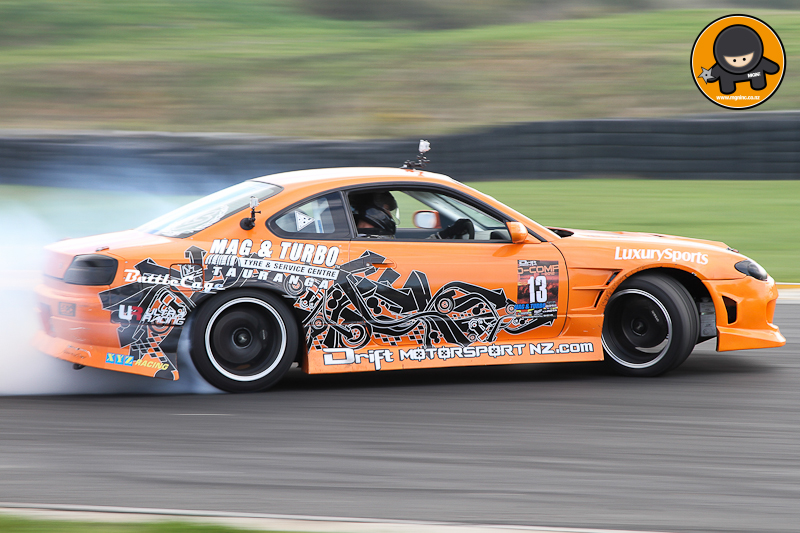 19 – Shane Rutland – Automotive Direct S14
Seems to only appear at selected rounds. Best chance is at Manfield where he will be at home in the S14 that he seems to have been campaigning for a while. Best known result is a 7th at Jamboree.
20 – Gary Tenana – Black on Black Ind C33
Won't fear any driver, Will be interesting to see if Gaza T has any driving rust in the ex-McFarlane C33 Laurel.
21 – Cameron Vernon – Skinny R32
Pro-Am champ steps up to take on the big boys. Will be an interesting learning curve and Vernon's best chance is likely to be at Hampton Downs where he has done a lot of laps.  R32 punches out plenty of power, however questions remain over if the tire package can generate the grip needed.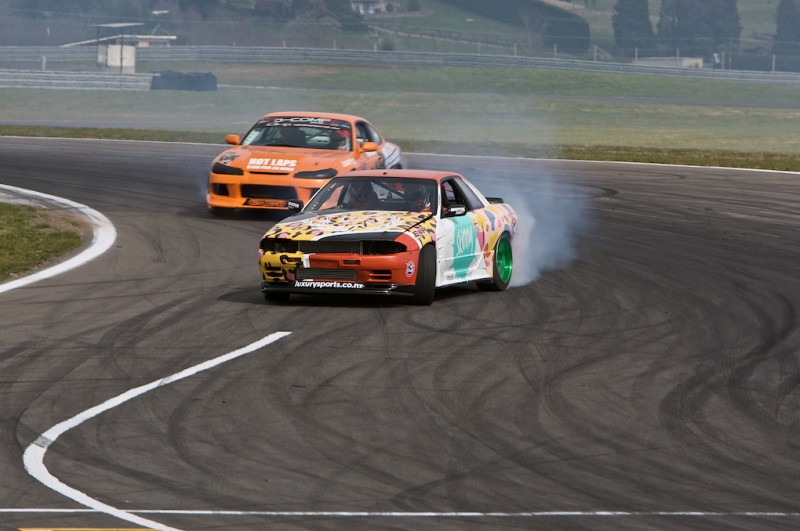 22 – William Foster – AE85
Willy the Terrorist shocked many in the little 85 that could last year. Has nothing to lose and is always fully committed. Jock Bennett proved this car's pedigree last year.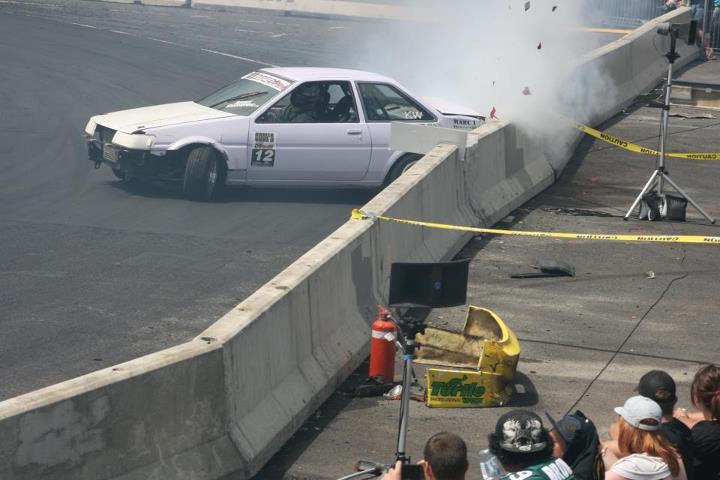 23 – Ben Belcher – Green Brothers Racing FDRX7
Don't know a lot about Ben, last seen at Manukau supershow. Green Bros = power, so it won't be slow.
24 – Ryan Johnson – NZKW S13.5
Got to be honest, I'm not 100% sure of Ryan being ready for Pro. Car has undergone a massive rebuild but I think this year will be a learning curve as the speed and chase proximity differences are huge. Is capable of good angle, but will need to improve consistency.
25 – Shane Allen – Waikato & Auckland Cranes Falcon
Car will be shared with Shane Van Gisbergen. Absolute monster of a machine that Shane is still learning each time he drives. Will probably again be a year of gaining experience, before becoming a serious threat. Showed signs of talent in Pro-Am,but that was with a lot less car to try and tame.
26 – Aden Omnet – Adenstyres Altezza
Limited knowledge of Aden, based on prior results is likely to gain experience this year.
27 – Zak Pole – Tai High R33
Zak is a talent and is my pick for this year's emerging star. Seems to quietly go about his business without a lot of the 'look at me' behaviours and has some of the best mentors in the business on his side. R33 won't lack for power and Zac also has a bit of a circuit racing background which should stand him in good stead on the faster tracks.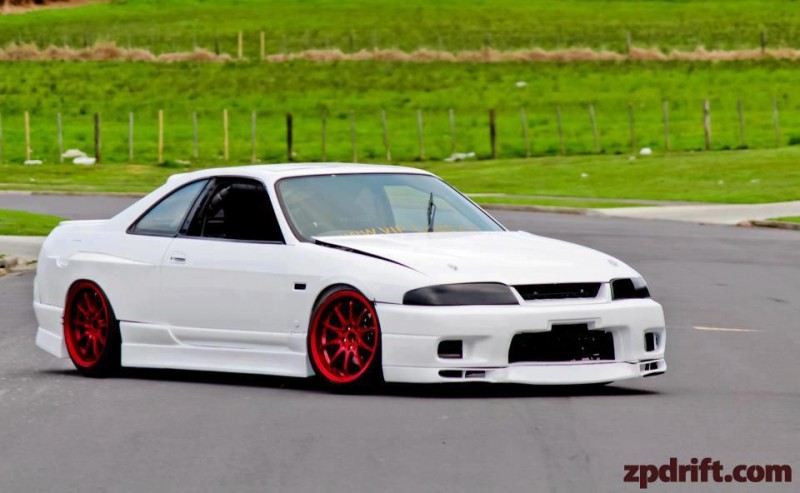 28 – Johnny Latham – HBR FDRX7
South Island based, never seen him run but know the car and it is well built. Be interesting to see how all the SI drivers adapt to what would appear to be quite different judging styles.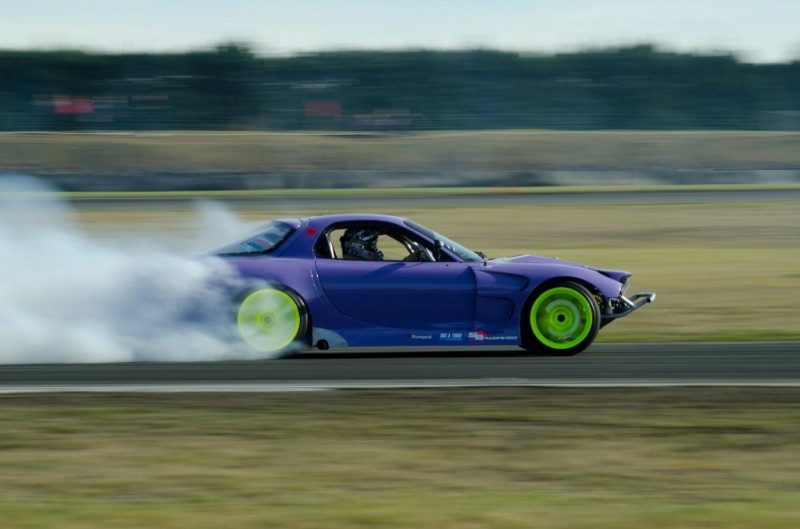 29 – Troy Forsythe – Southern Drifters S13
You'd probably call Troy the South Island Fanga. The Family Guy has plenty of aggression and won the North/ South Challenge. May not have seen some of the tracks for a little while and I don't think has ever drifted Hampton Downs. Won't take long to settle and will be the big threat of the Southern Raiders.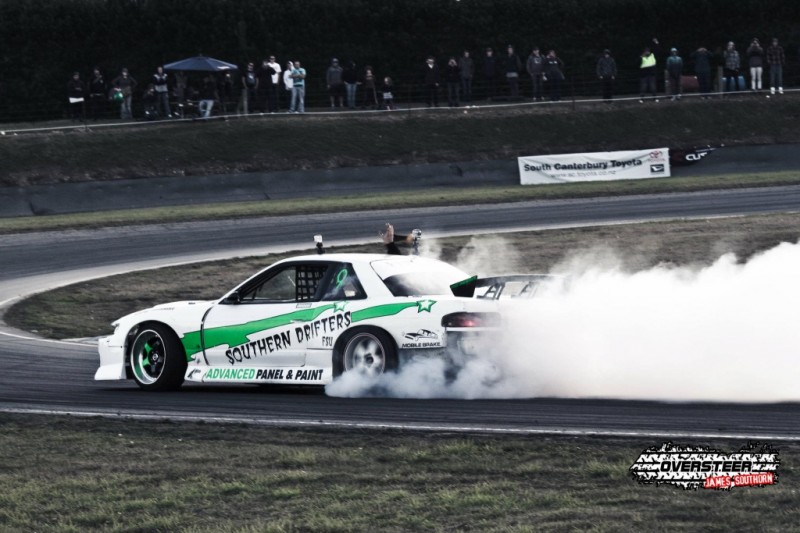 30 – Tom Hadlee- Southern Drifters R32.4
Unknown to me, Apply comments as above as I don't know that he's seen any North Island tracks.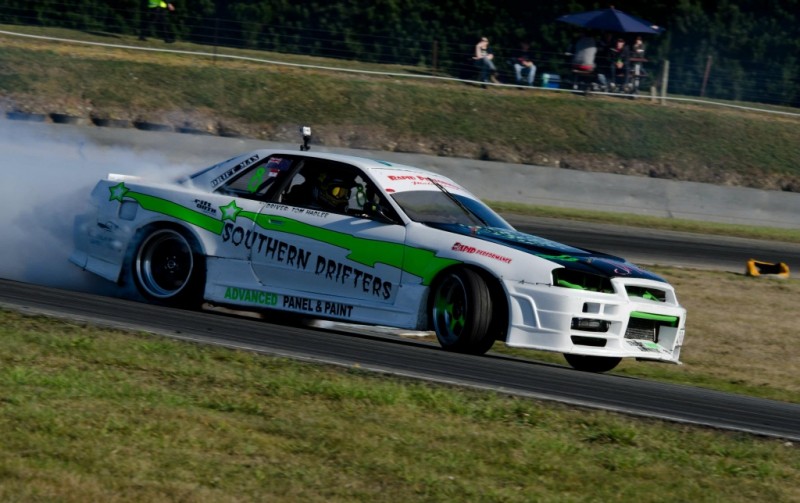 31 – Carl Ruiterman – E&H S14
Technically very good, much like Brad Lauder, Carl doesn't make a lot of mistakes but is perhaps a little faster. Will be a threat to the established top drivers after a season off last year.  Has a well prepared car that rarely if ever fails, but GT Radial tire will be new for him, and may lack a little grip compare to Achilles that most top runners seem to be using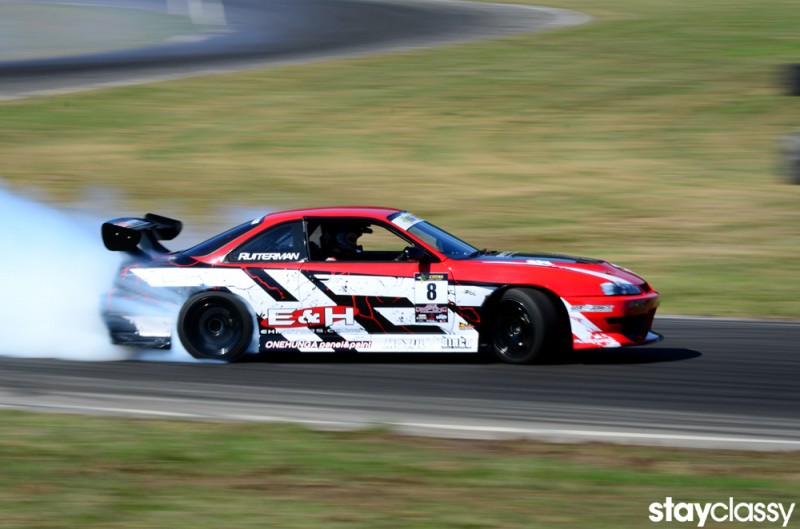 32 – Sean Falconer – S13
The coach returns, Falconer has been away a fair while but is perhaps considered by many the best driver never to be crowned Drift King. Car may need refinement as it sits largely as it was in 2007/8 but would expect Falconer to give many a scare and to feature in the late rounds.  Has kept his skills sharp driving the big ben stunt utes.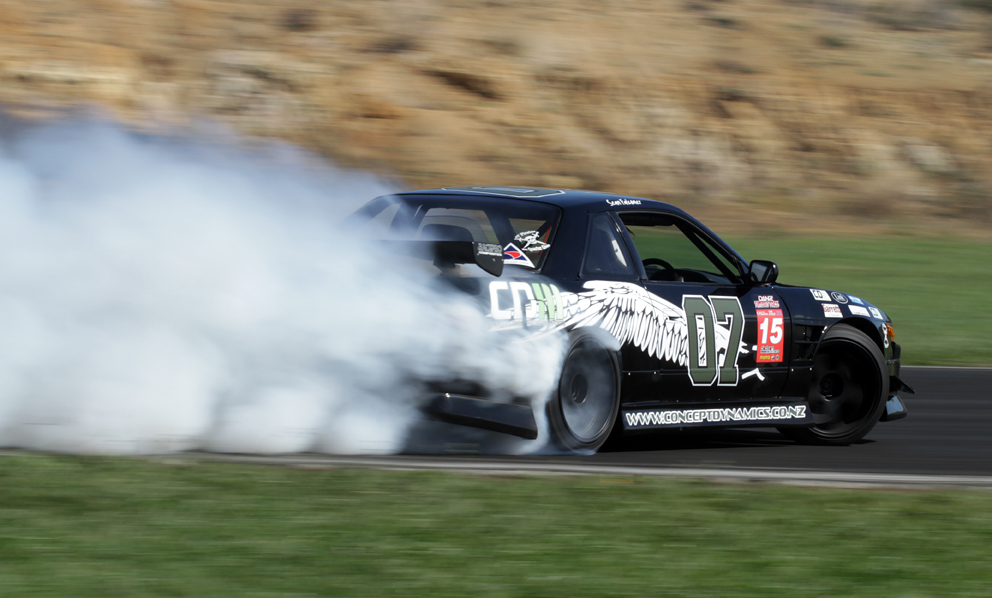 33 – Shane Poulton – AOSC S15
Will have plenty of speed, angle and smoke with 600kw+, but will take some time to find his groove in Pro.  Has been told by judges to show more aggression in his corner entries, so will need to take that on board, or have to fight through the top guys early.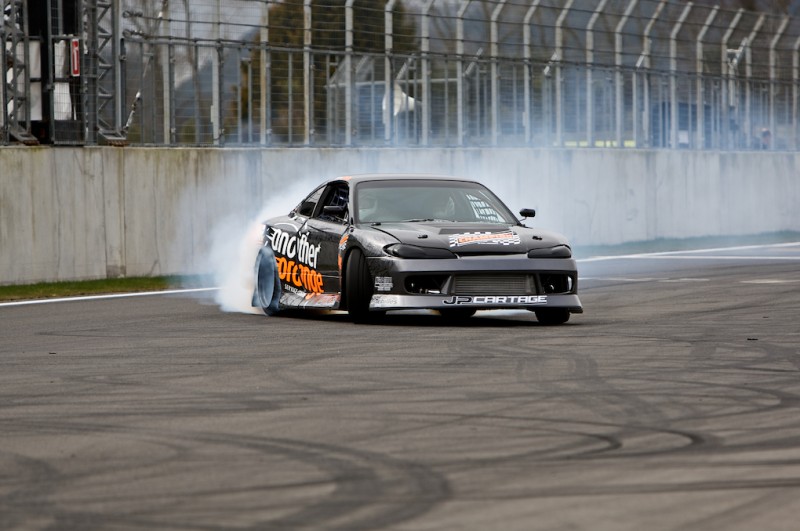 34 - Kyle Jackways Drift - Nexen Tyres / DTM 180
Jackways will try and apply what he learnt as a judge to his 330kw freshly built 180SX. Kyle was among the top runners before taking time out so will want to re-establish himself early.  Would be wanting to be in the top 8 at least.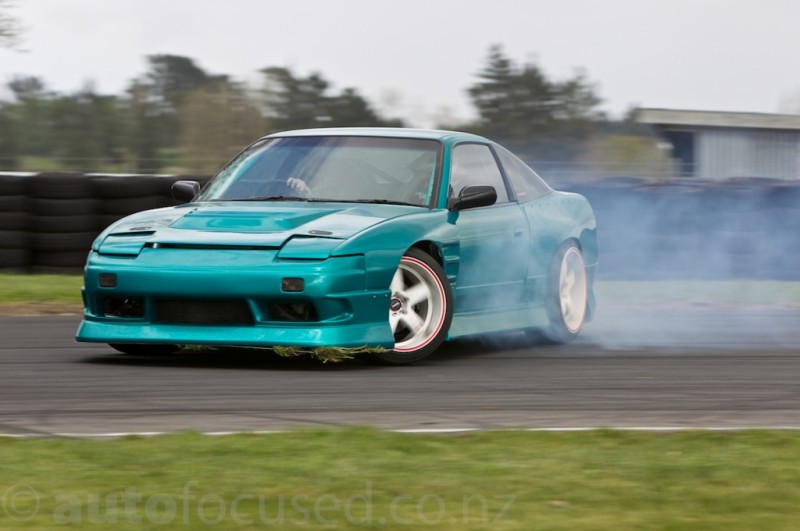 35- Shane Van Gisbergen ( car share with 25 Shane Allen)
What really needs to be said? Professional race car driver who is entering a new discipline. Might take SVG a little while to dial in the needed big angle to really challenge, but he'll be plenty fast enough to upset the apple cart and get into the top 16. Now doing 3 and potentially more rounds. Will be interesting to see the team orders should he have to face Shane Allen and who would step aside.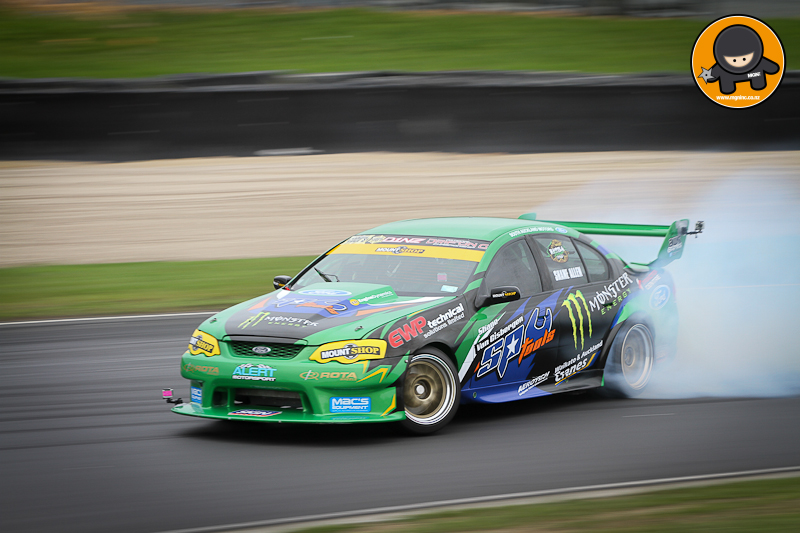 36- Cody Collis
Multiple South Island event winner, lots of power and aggression. Would be expecting to run in the top part of the field once he has tracks dialed.
Not competing full season but possible entries to select rounds – Darren Benjamin, Steven Sole, Dimitri Amos,