Sideways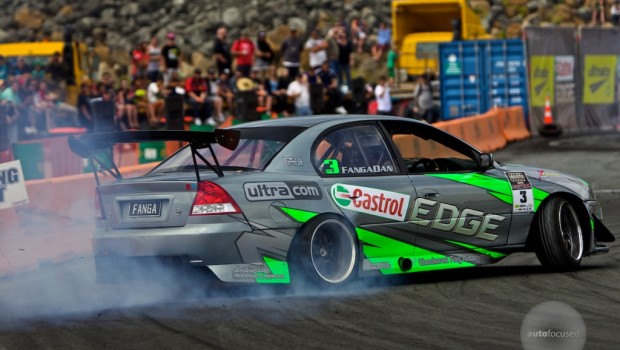 Published on December 4th, 2012 | by mrgrumpyninja
0
Fanga Dan Doubles up at Codys D1NZ Round 2
What a weekend for home town hero Daniel 'Fanga Dan' Woolhouse and the Castrol Edge Commodore.
Picked by many to be a real title threat this year after a solid season opening round saw him come home in second place at Manfield, Woolhouse was always going to be a man on a mission with his massive local fan base attending in force. From the moment the car was unloaded for some quick safety testing at the request of the building owners, it would be apparent what intentions were with the rear bumper and  tail lights lasting less that one run before being smashed apart by concrete barriers.
The FDC Motorsport team were pretty stoked to be able to show off the new purpose built transporter to the locals and took a pit spot outside electing to provide an area for friends and family to watch and cheer from as Fanga and team mates Gaz Whiter and Robee Nelson took the fight to those invading their home turf.
Saturday practice would see another set of tail lights meet their doom  as Fanga dialed in lines and set about achieving levels of angle that shouldn't be possible in what would more commonly be a taxi or a police car. Happy and with no problems the team fired up the BBQ and decided to relax before Sunday would bring about the competition end of the event.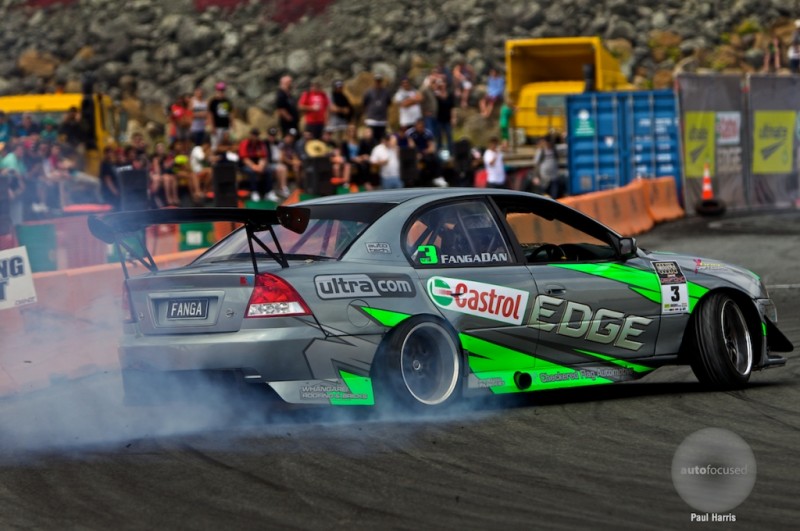 With a blazing sun appearing early, and a hot track surface providing high levels of grip, adjustments were made to the Tein super drift suspension to create the desired car balance before the grumbling GDS Automotive tuned LS2 was fired to life and headed out to dial in prior to qualifying. Having looked on form all the prior day, no one was surprised to see the Castrol Edge Commodore fire through the section and grab the #1 qualifier spot with a score of 85, just pipping team mate Gaz Whiter and seasoned racer Jase Sellers who both scored 84. A bye run in the top 32 would be a bonus before a top 16 battle with Pro-Am Champ Cam Vernon.
Vernon put up a good fight but couldn't hang with an aggressive Woolhouse who moved through to the top 8 and a battle with young Zac Pole who had been a real surprise pack and looked fast and composed.  Pole would take the fight right to Woolhouse and there would be some controversy with the call however it would be FDC Motorsport into the Top 4 and up against an on form Andrew Redward who had been dialling monster angle in all weekend.  The Achillies driver in the end actually ended up beating himself by spinning on the chase run first up and giving Fanga an all but unbeatable 10-0 lead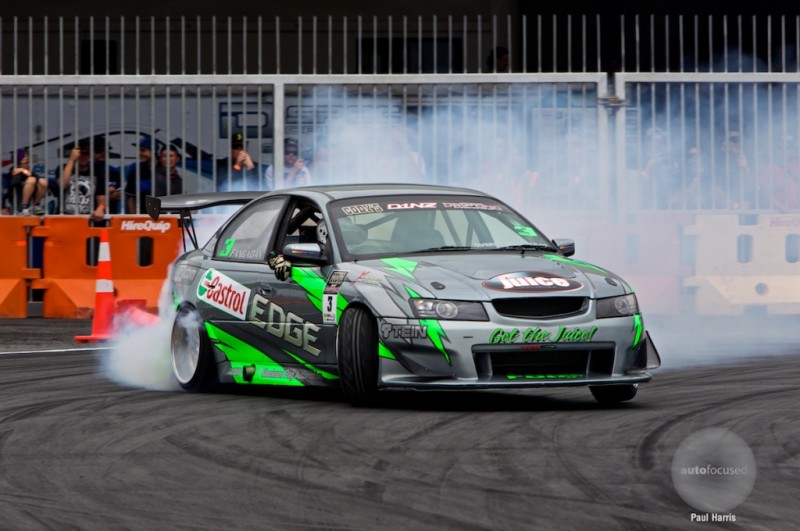 A final with young gun Nico Reid was on the menu and it was everything it should have been with Reid not afraid of his seasoned adversary. In the end tho he would not be able to fend off the outstanding chase that had been Woolhouses main weapon all weekend, the Castrol Edge Commodore a constant presence on Reids rear quarter.
The crowd went wild as Fanga took to the top step of  the podium, inviting partner Nicole and other Family members to join him in the special moment. Fanga Dan had done the double on home soil and would leave the round in the number one position on the championship table, 30 points clear at the top.
FDC Motorsport wish to Thank all the loyal sponsors who help them each and every round
Castrol Edge, Juice Polishes, Tein, Xtreme Drift Clutch, Whangarei Roofing and Bricks, Ultra Com, Checkered Flag Automotive, Syndicate Signs, AutoTech Whangarei, SBPnz, Morgan Auto Painters and MGNinc
Images c/- Paul Harris – may not be reproduced or used without permission