Sideways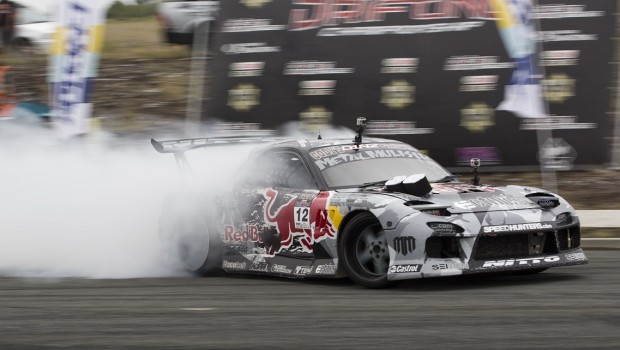 Published on March 12th, 2012 | by mrgrumpyninja
1
Codys D1NZ Round 5- The spiritual home of NZ Drifting- Whangarei
When it was first announced that D1NZ would be taking the championship back North for the first time in 2 years, it was met with excitement by Fans and Drivers alike. There is nothing quite like a street course to test man and machine and bring the crowd right into the action, getting closer than is possible at any race track. With locally based NAC Insurance on board as the cup sponsor, we were all set for an action packed round.
Heading into the event, it was new Team Dilusi recruit Curt Whittaker sitting atop the table from V Energy r34 pilot Cole Armstrong,  Mad Mike Whiddett for Redbull, 3 time Champ Gaz Whiter and rookie standout Darren Benjamin.  Heading home it would be a much different looking table as the course took its toll on gear, with 3 engines, 4 gearboxes, 7 rims and potentially one car being claimed by the 700m of Ruakaka chip seal, 140 hay bales and freshly built curbs.

As I traditionally like to do to ensure I give all drivers fair coverage, This is the order in which drivers finished starting with the top 3 for Pro- Am (our development class) . The pro-am's battled it out in front of a hardy but enthusiastic crowd on the Friday, with everyone getting into the spirit of things and getting right behind the drivers as they went all out to qualify and then make it through battles. It's pretty awesome to see how some of the talent has developed over the season, and new drivers making the top 8′s each round.
Home in 3rd place, was first time D1NZ entrant Zak Pole for VIP labs in his R33. The 33 is a tough car to make look good, but Zac has managed to achieve this with flouro wheels off setting the big R33′s lines nicely. Helps that he drives the wheels off it too, and he'd be feeling a bit let down perhaps at not beating series leader Cam Vernon in the semi.
2nd place went to Willy Foster in the CDM/Bennett Motorsport AE85, Willy was on an absolute screamer of a run in the final when he found himself boxed in and had no where to go but into the curb. This really is the little car that could, although the manly shade of lilac still isn't my cup of tea.
Round winner again, and now pretty much assured the 11/12 title save for a major mechanical is Cam Vernon in his E&H Motors R32. The 336kw monster has been faultless all season and suits Vernon's style, powering through his supply of tires without missing a trick. Cam has elected to stay in Pro-Am to gain experience before stepping up to Pro next year.
So into D1NZ's pro field, and it was a smaller than expected field who went into Saturdays event. A number of cars absent for mechanical reasons, or with the costs of competing meaning that those not in the title hunt elected to stay home and focus on the final round at Hampton Downs, which will take place on the 6th and 7th April.
16th place- Jason Sellers, case of the highest highs and the lowest lows for the strong sellers family team. Jason announcing on Friday that he would be accepting an invite to compete offshore this year, before a mechanical failure caused an incident that took him out of Saturdays competition.
15th- Sky Zhao- D Spec Motorsport, Qual score 64.50,  The Chinese slider has enjoyed a reasonably consistent season getting better and better, he seemed to perhaps be a little afraid of the curbs on the Friday and this reflected in his qualifying. Eliminated by Fanga Dan in the Top 16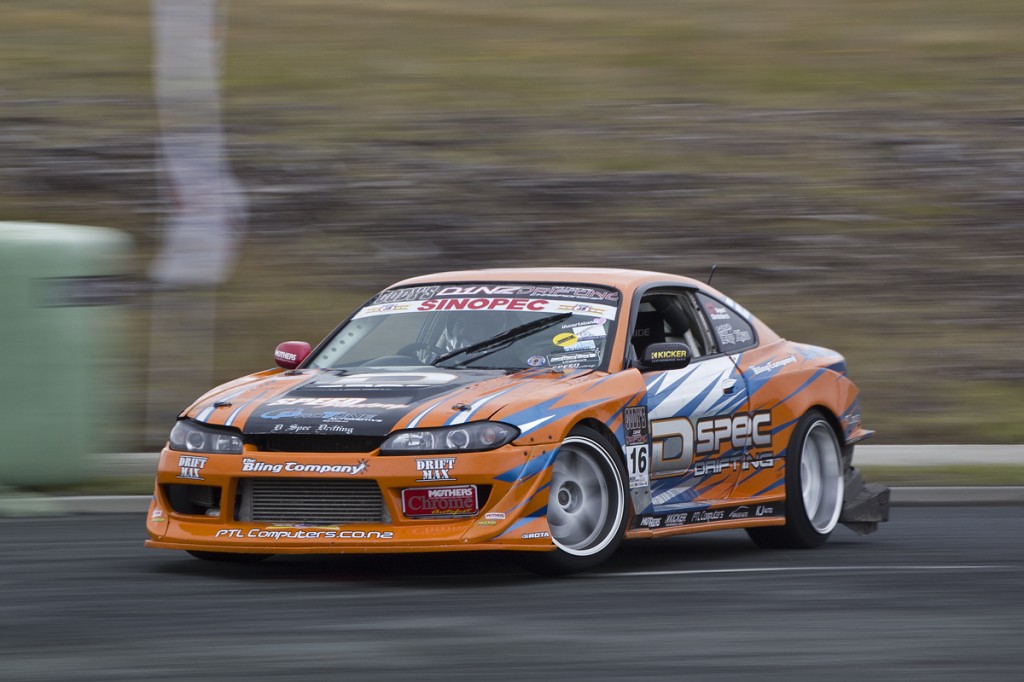 14th- Cole Armstrong, V Energy R34- Qual 65.00, It wasn't a happy round mechanically for Armstrong and his team, with 2 gear boxes letting go during the course of the weekend. Cole's team amazed the crowd by rebuilding a box in the lunch break to make the top 16 only to fall victim to an unfortunate spin while chasing Darren Benjamin. Armstrong has now fallen to 5th on the table and has already started talking about needing to grab max points at the final round and hope that other results go his way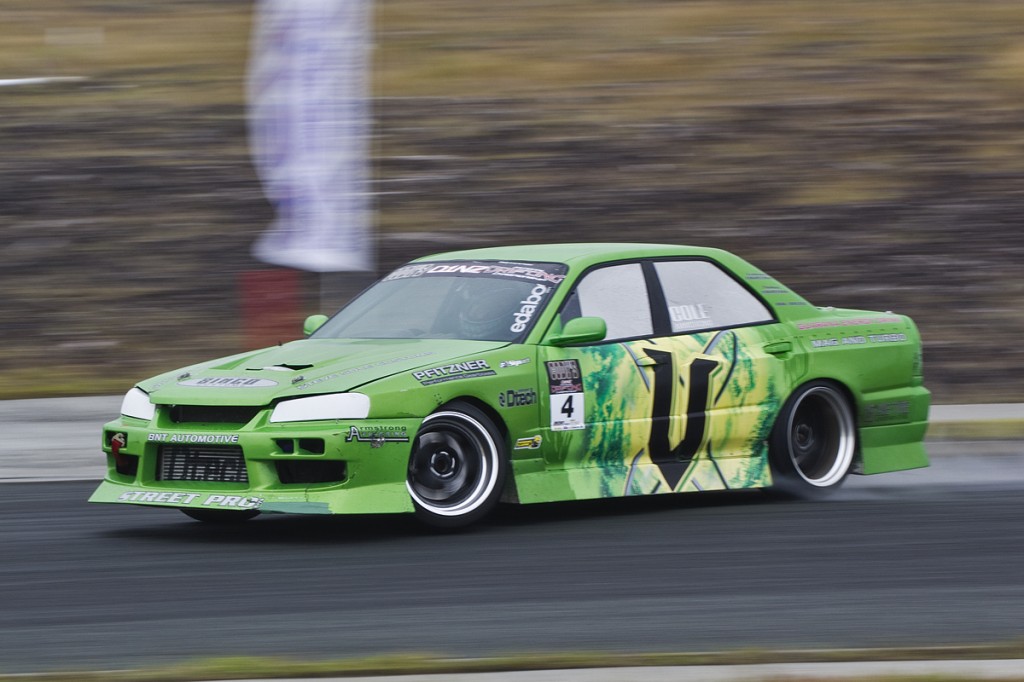 13th-Steve Sole- Steven Sole Customs , Qual 65.00 (in Jake Hakarias S13) – Soletrain had the misfortune to lose an oil pump on Friday and stepped into a Pro-Am car that was unfamiliar. Went out at the hands of Gaz Whiter who simply had too much speed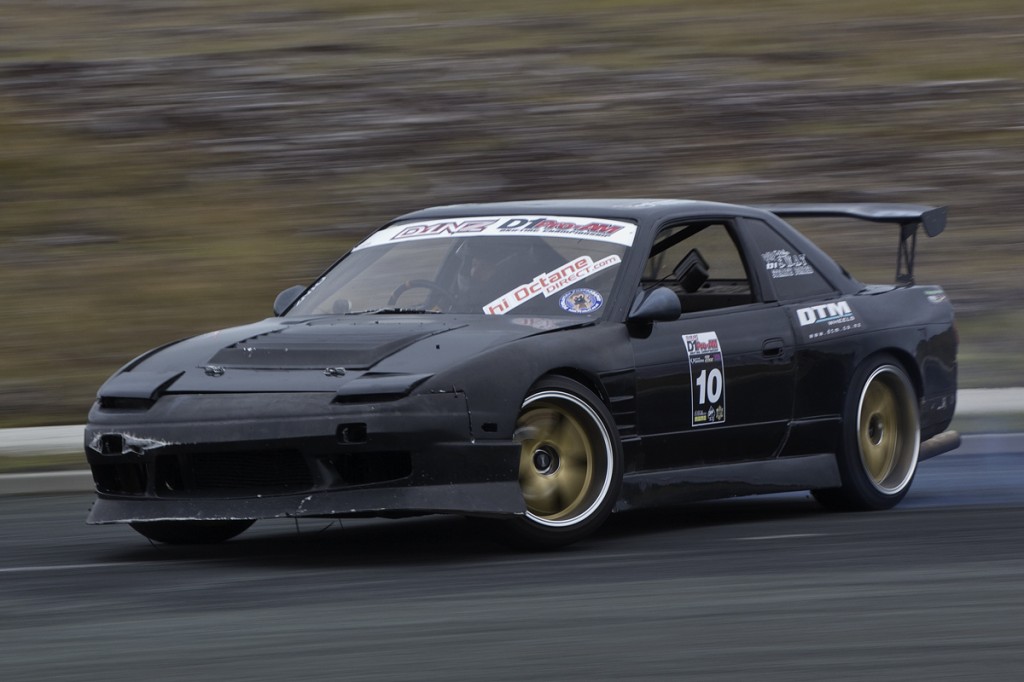 12th- Bruce Tannock- Achillies Radial, Qual 66.00, Tannock would come up against young gun Robee Nelson in the top 16 and went in hot on his chase only to spin, effectively ending his chances. The Rocket Bunny remains a dangerous car capable of beating any in the field on its day, and Tannock will be back in more comfortable surroundings come Hampton Downs. ( Tannock also gave me the finger for calling him old during introductions, not the behaviour I expect of a responsible senior citizen)
11th- Curt Whittaker- Whittaker Motorsport/ Team Dilusi- Qual 69.00 (in Cam Vernons R32). Whittaker lost an engine in spectacular style during morning practice and had 4 pro-am's immediately offer the #1 on points their cars. Whittaker went with Vernons 32 as the best matched to his style and came to grips quickly with the car. Battling with Nico Reid , the pair would go OMT (one more time) not once but twice, with the judges forced to come up with a result sending Reid through. It has to be said that this divided the crowd and depending on where you were standing it could have gone either way.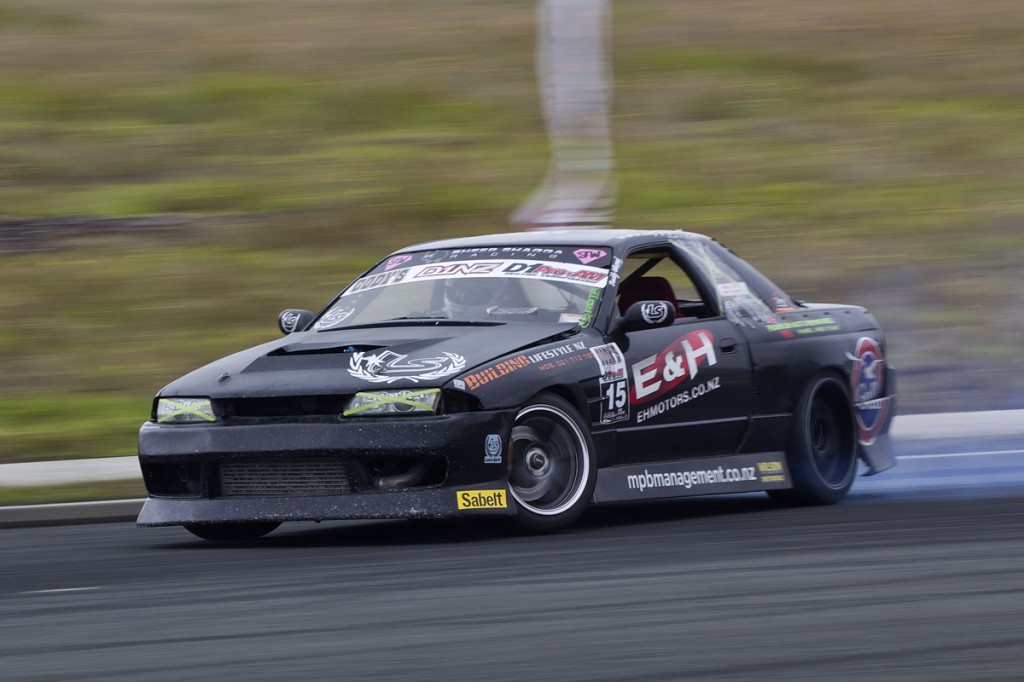 10th- Bradley Lauder (pronounced LORDER)- WAL/Alcotane- Qual 74.00.  Lauder had one of the loudest cheering sections of the event and was aiming to carry on from his strong Mt Smart showing. It wasn't to be with Lauder struggling with the final clip, seeming to be on the handbrake for longer than most, he would fall to Andrew Redward in the top 16.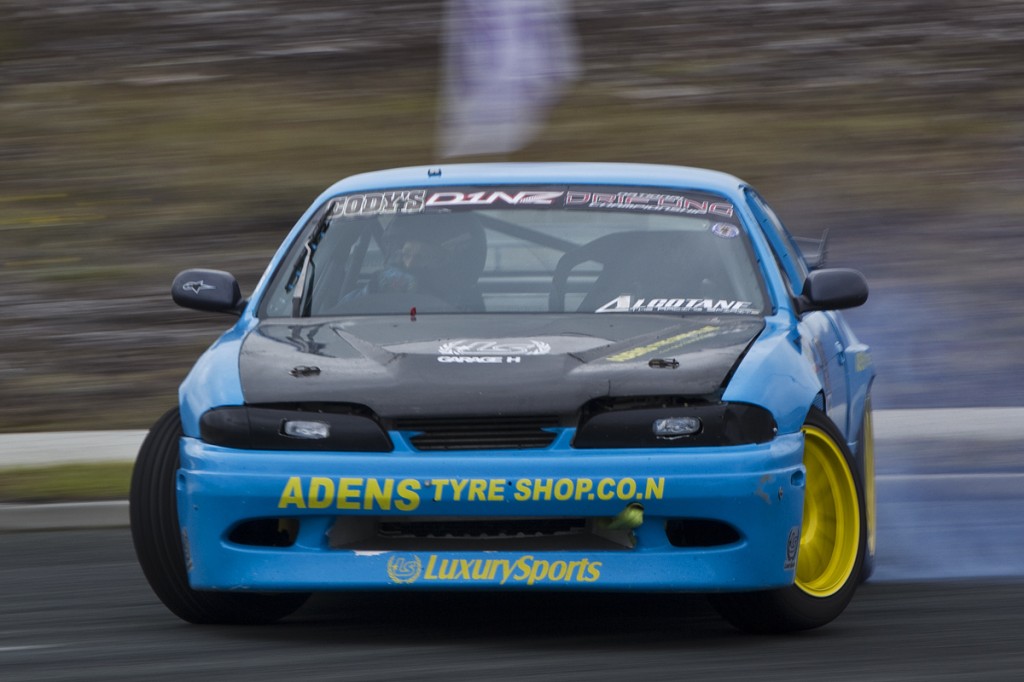 9th- Daynom Templeman- NAC insurance- Qual 79.00, Templeman  had a rough week and didn't get a practice run in on the Friday. Turning up on Saturday, Daynom showed his years of experience by quickly getting up to speed and qualifying 7th. He would face fellow Rotary pilot Hugo Mclean in the top 16 and would fall to the young man who  seemed to destroy more and more of his car each run. Templeman has had an up and down season and seems to be searching for a reliable combination still.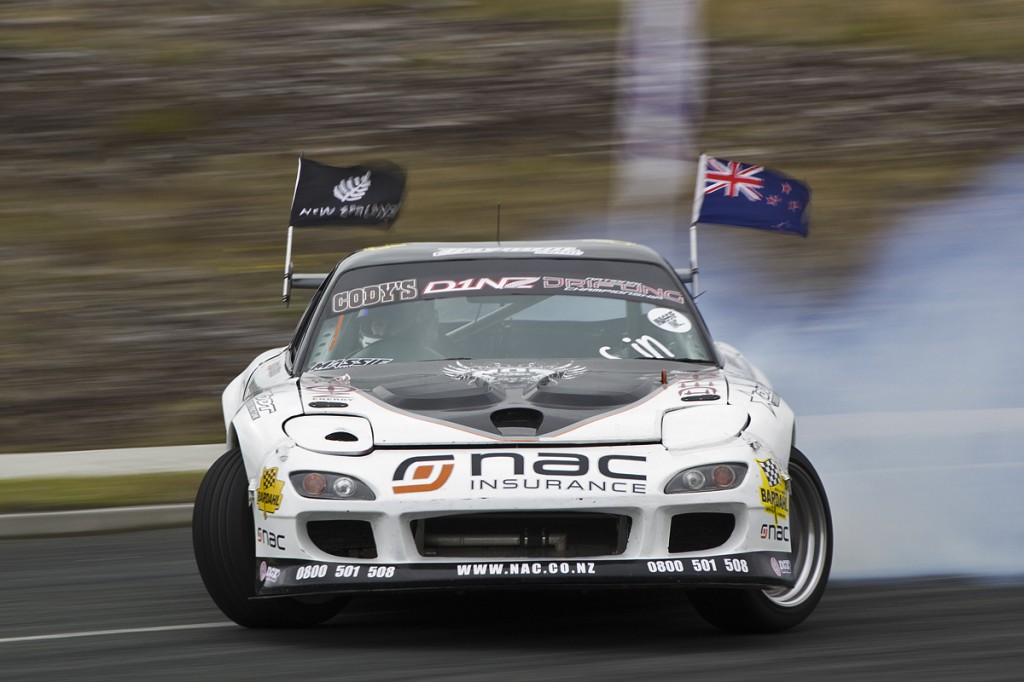 8th- Hugo Mclean- Grabatool – Qual 72.50. As just mentioned, Mclean had a vendetta against one hay bail hitting it not once by twice at speed. By first smashing his rear glass, then his front, along with both guards and a bumper, Mclean had the once super tidy AE86 looking full missile spec by the end of the day. I did pick Mclean to go through, and it was probably only an in form Fanga Dan who stopped Mclean going top 4.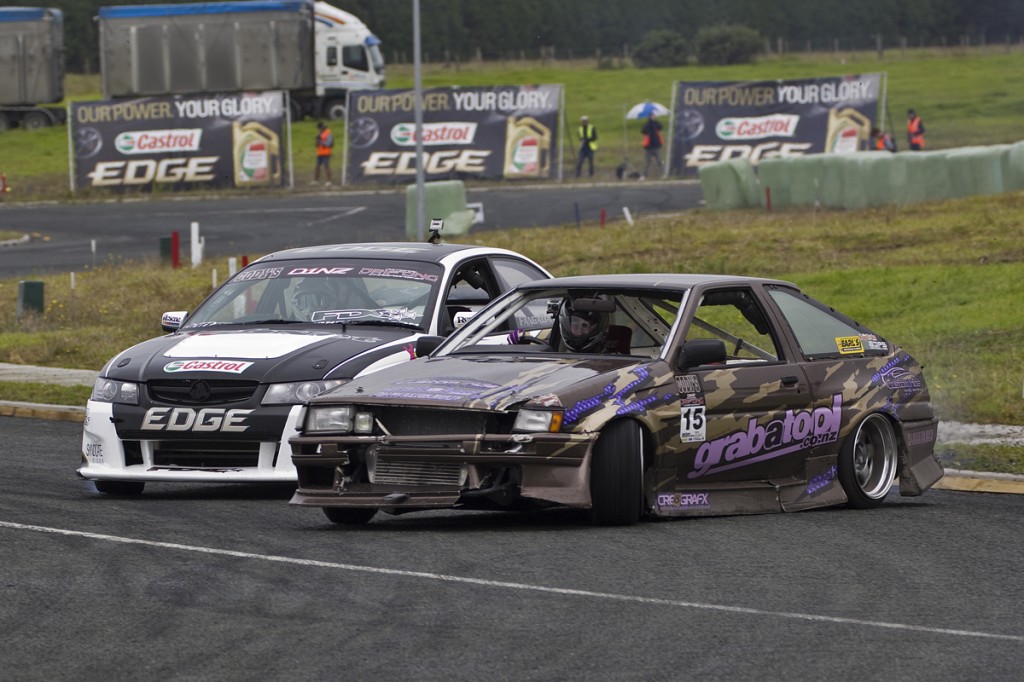 7th- Andrew Redward- Advanti Racing/ Nankang – Qual 76.00. Redward dealt with Brad Lauder before coming up against #1 qualifying Mad Mike. It's been a funny season for the bright yellow car, and with turbo issues Friday, it would be the gearbox that decided not to play the game against the MADBUL. Redward going out in the top 8 to Whiddett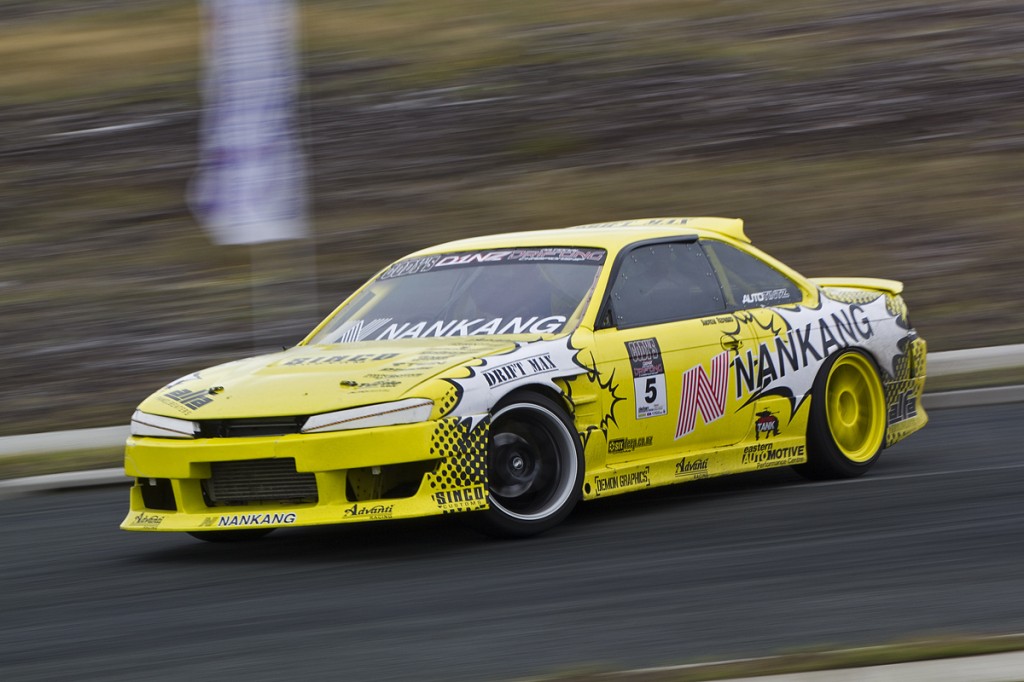 6th- Robee Nelson- Koba Batteries- Qual- 80.50. The youngster is not afraid of anyone, and comes from a farm about 10 minutes up the road so this was a home event for him. His father pronounced the team over the moon with the result and more than they had hoped for in a first pro season. Beating Bruce Tannock, before falling to the Tectaloy S14 of Gaz Whiter, Nelson can feel proud of his result and will keep getting better.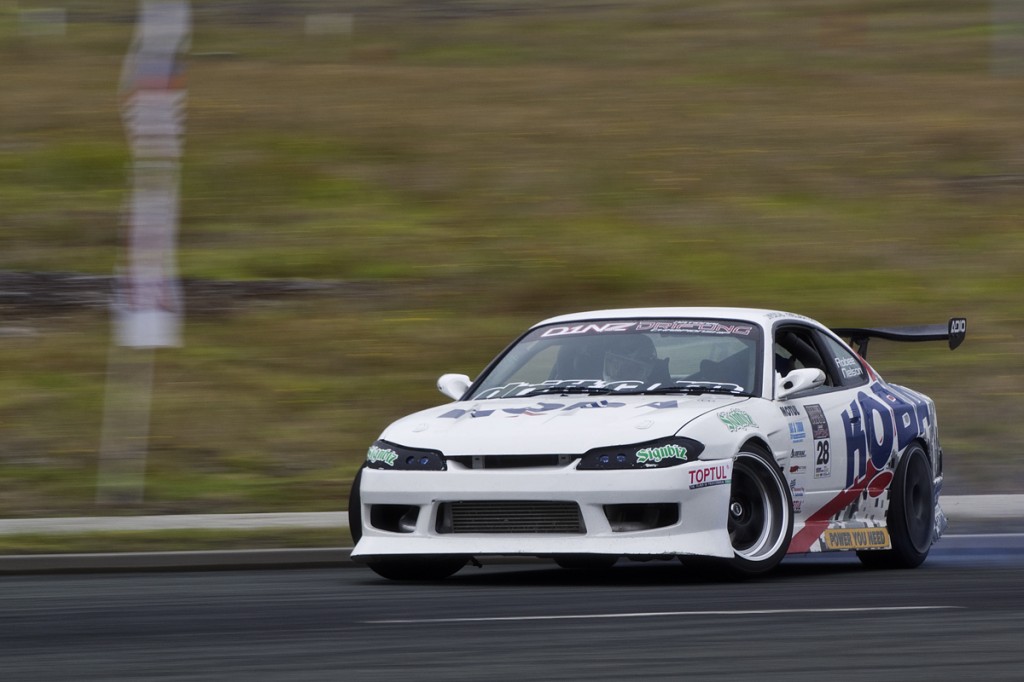 5th- Darren Benjamin- Matts Computer Services- Qual- 84.00. Benjamin in the big C35 has been a real force this year and was sitting 6th on points leading into the event.  Qualifying in 3rd place, Benjamin would have been hoping for another podium but would come up against old foe Niko Reid in the top 8. Going head to head the judges couldn't separate the pair and called an OMT which went the way of Reid. Benjamin out in the top 8 but scoring good points again to be in touch going into the final round and a real chance at a season podium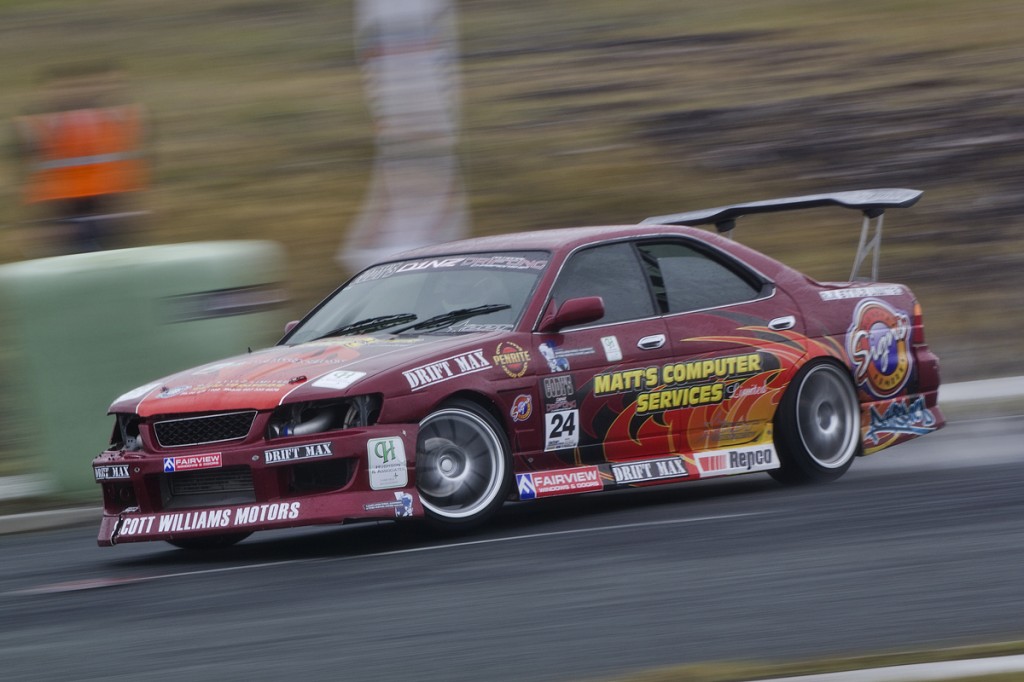 4th- Niko Reid- GT/Luxury Sports/TTT- Qual- 77.50. The Tanefa V2 (Essentially a monster in Maori for our offshore readers) has had its fair share of gremlins this season but now seems to be getting sorted out. Like Hugo Mclean, I had picked Reid to be at home on the street surface and so it would prove to be, with Niko being part of the most battles of any driver all weekend, going OMT with Whittaker and Benjamin, before ultimately falling to Fanga Dan Woolhouse, then battling Gaz Whiter for 3rd/4th.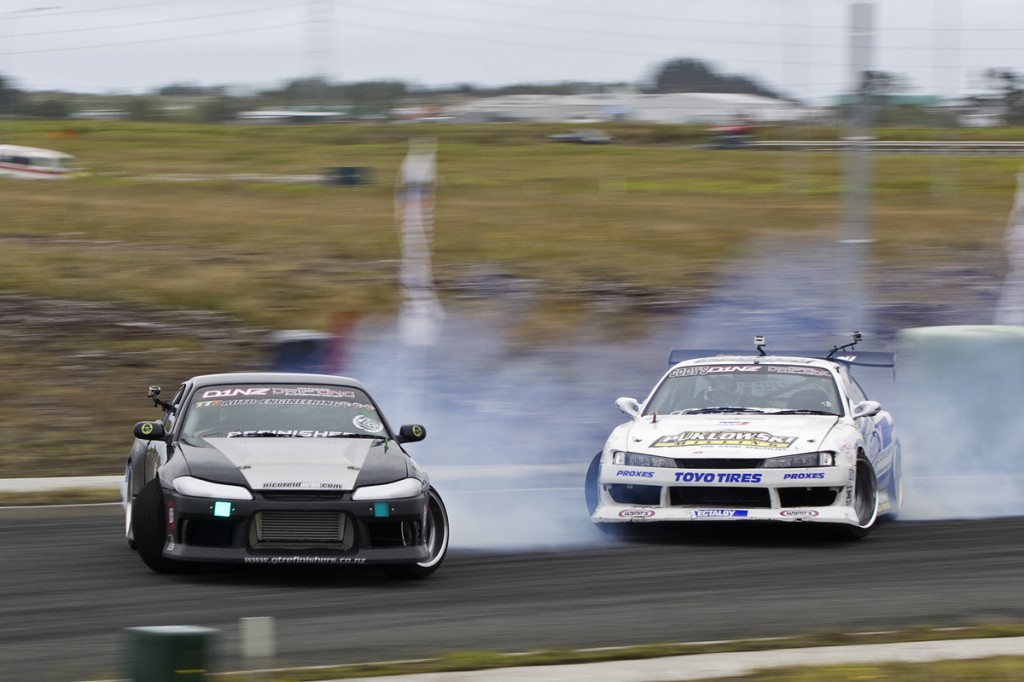 3rd- Gaz Whiter- Tectaloy- Qual-81.00. Whiter had looked at home on the Northland streets, and was dialing in monster angle through the centre section of the track. He would take care of old foe Soletrain,who he seems to battle almost every round before besting young team mate Robee Nelson. It was about here the perhaps the most controversial call of the weekend was made, Whiter vs Whiddett in a semi final is always a hard fought battle, and this would be no different. I need to state at this point that it is only my opinion, but to me it looked like the Madbul accelerated hard with Whiter on his tail only to slow and shallow on the first corner out to the outer clip causing Whiter to make contact, with both drivers continuing unaffected neither having gone off line.  Reverse the run and you would expect a carbon replay only to see the Madbul sitting well back off Whiter with a sizable gap to the first corner, Judges call OMT which had many scratching their heads.  Both drivers were then told of the outcome and went to go back out, only for the Tectaloy car to discover a radiator leak and need to take a 5 min call. Whiddett it should be noted did not stage at this point so the bell did not start for some time. Round 2 and Whiter blew his chase run with a correction and that was all the advantage needed to send Whiddett to the final, and Whiter to 3rd/4th. An angry Whiter then appeared and took on Niko Reid, dispatching the young man for a 3rd place and valuable points to stay in touch in the title race.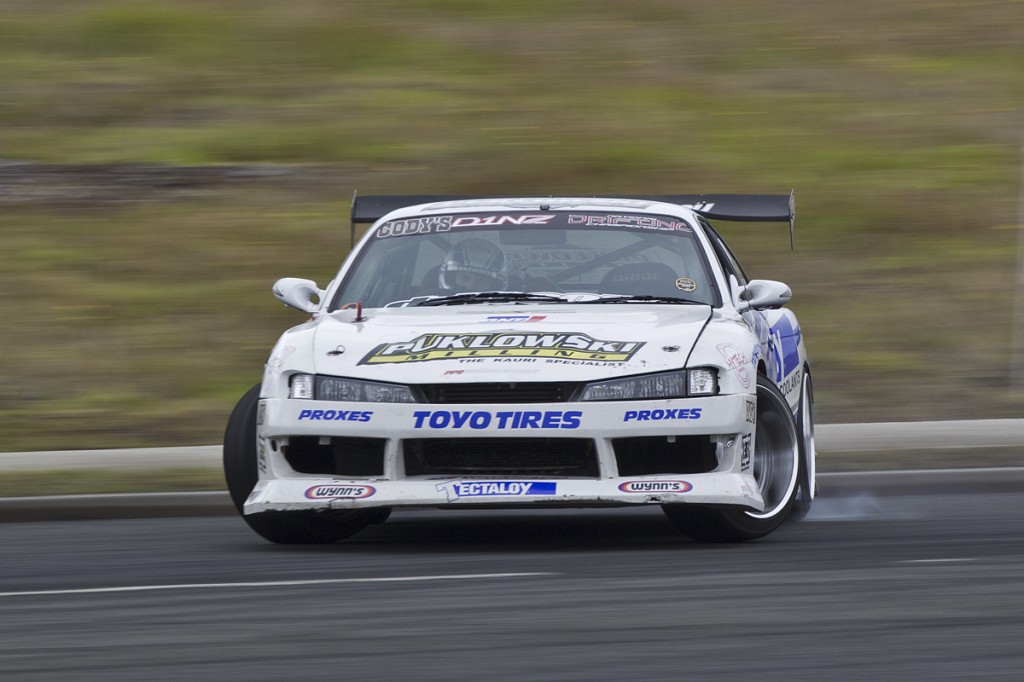 2nd- Fanga Dan Woolhouse- Castrol Edge- Qual 84.00.  Woolhouse looked a man on a mission all weekend. With a big local fan base and a well dialed setup, it was no surprise to see Fanga qualify in 2nd place. Woolhouse busted up 2 rims on Friday finding exactly where the limits of the course were, so it was no surprise to see him moving through the early rounds, beating first Sky Zhao and then Hugo Mclean, who's windscreen shattered on his chase run. Woolhouse would then go OMT with Niko Ried in what I would call one of the battles of the weekend, before advancing to meet Mike Whiddett in the final. Woolhouse and Whiddett have a long history and I think this is the second time this season they have met in an event final.  The final battle was nothing less than expected with both laying outstanding lead and chase runs that the judges could not call. OMT in the final, OK , don't mind if we do.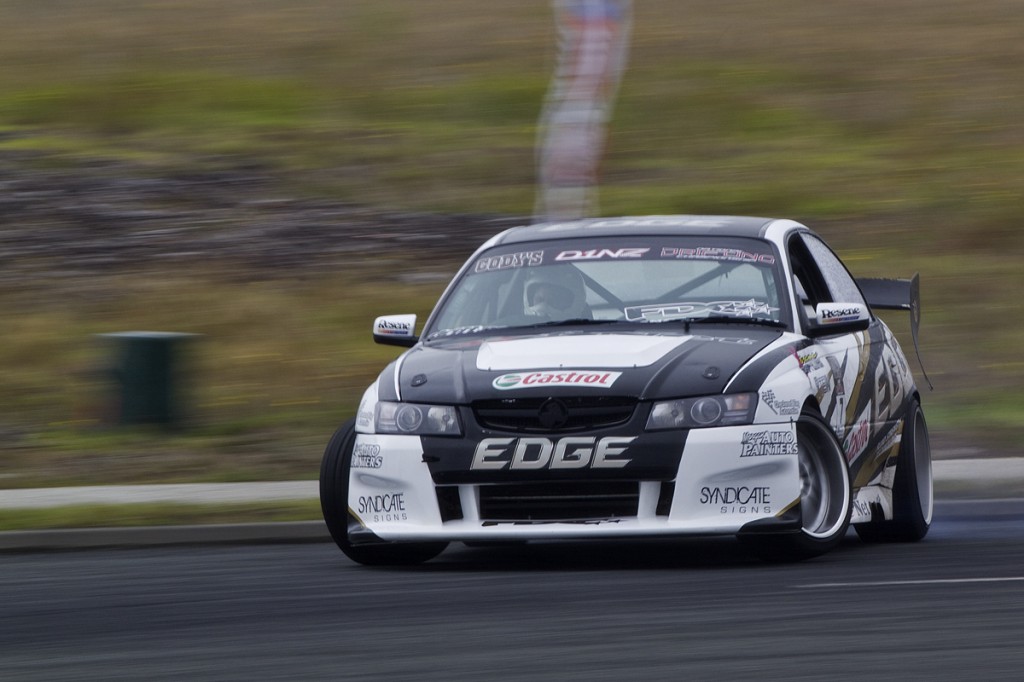 1st- Mad Mike Whiddett- Redbull- Qual 87.50.  Whiddett was the form driver of the weekend, no one else has quite mastered the art of getting the crowd on your side like the Mad one. Run after run, Whiddett would lay his rear bumper over the curb on the 3rd clip, right in front of the biggest and most vocal crowd, before smashing the loud pedal up the hill and out of the section hitting the limiter and popping flames through a monster cloud of smoke. With an 84 on his first pass setting the benchmark, Whiddett would #1 qualify for the second event in a row earning a bye run in the top 16.  Into the top 8 and Andrew Redward would fall aside for the Madbul as it rampaged towards the final. About here is where we get to the Whiter/ Whiddett battle and thats covered at length above, and Whiddett would go through to battle good mate and the man he says is his favourite to battle, Fanga Dan Woolhouse. OMT was probably a fair indication of just how close these 2 were all weekend, and eventually it would be the smallest mistake from Woolhouse, backed by a top notch chase that would see the Mad one do the double, #1 qualifier and 1st place.  As usual, celebrating as only he can would see Mikey pop a foot out the window , door open while bouncing off the limiter during victory donuts.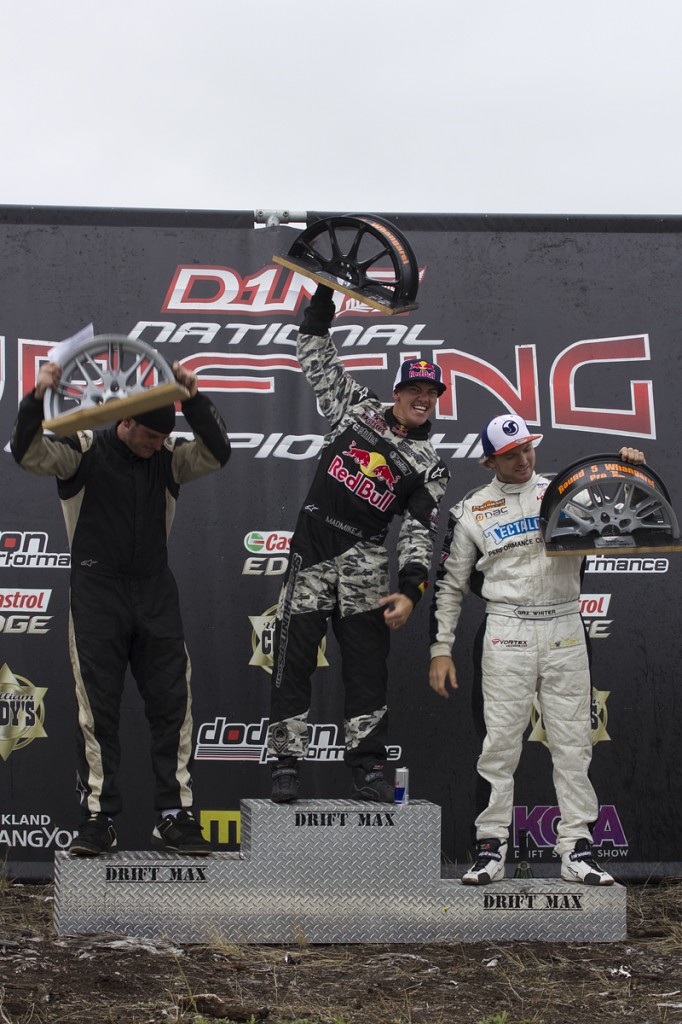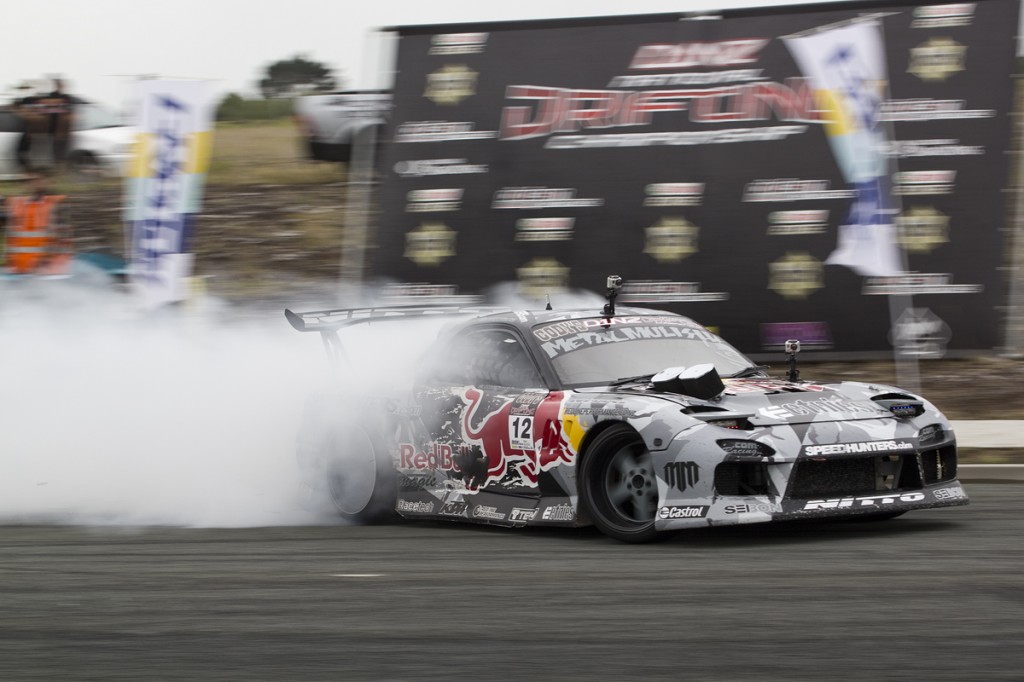 Well done D1NZ, All the drivers and all the fans, you really showed why Northland is home for drifting and I look forward to being back again.
Points table with lead, points to next position and points behind leader
| | | | |
| --- | --- | --- | --- |
| mike whiddett | 419 | 27 | |
| curt whittaker | 392 | 12 | 27 |
| gaz whiter | 380 | 6 | 39 |
| Dan Woolhouse | 374 | 7 | 45 |
| cole armstrong | 367 | 7 | 52 |
| darren benjamin | 360 | 48.5 | 59 |
| daynom templeman | 311.5 | 0.5 | 107.5 |
| andrew redward | 311 | 13.5 | 108 |
| brad lauder | 297.5 | 21 | 121.5 |
| Sky Zhao | 276.5 | 14.5 | |
| steve sole | 262 | 13 | |
| Nico Reid | 249 | 23.5 | |
| Robie Nelson | 225.5 | 4 | |
| bruce tannock | 221.5 | 16.5 | |
| mac kwok | 205 | 14 | |
| Mark Burling 111 | 191 | 6.5 | |
| jason sellers | 184.5 | 5.25 | |
| Hugo Maclean | 179.25 | 48.5 | |
| Matt Jackson | 130.75 | 11.75 | |
| Jock Bennett | 119 | 9.5 | |