Dirt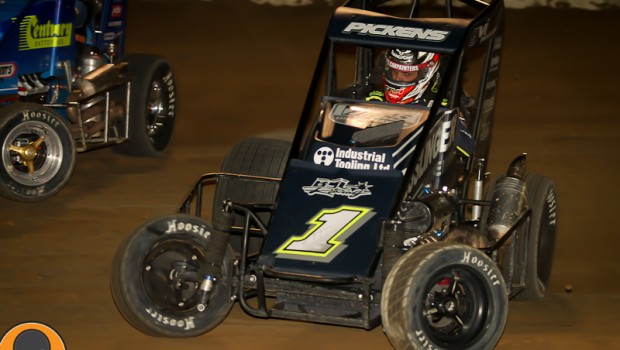 Published on December 16th, 2012 | by mrgrumpyninja
0
Tyreplus Midget 40 Lapper- Huntly Speedway
Just down State Highway 1 from Auckland is a great little speedway track with what some say is the best surface in New Zealand. Having only been once before, when the chance came during the week to arrange media access for what will likely be one of the few if not only times this season I thought why not,  plus there is nothing wrong with seeing 20+ midgets ripping around the track.  As it turned out D1NZ Camera guy Benny was heading that way to, so I had some company for the 45 min trip.
I'd like to thank the club and track for having me, the clubs and volunteers are the heart and soul creating a strong family feel, which I think actually carries over to the audience that comes along, and it is perhaps something other motor sport should look at.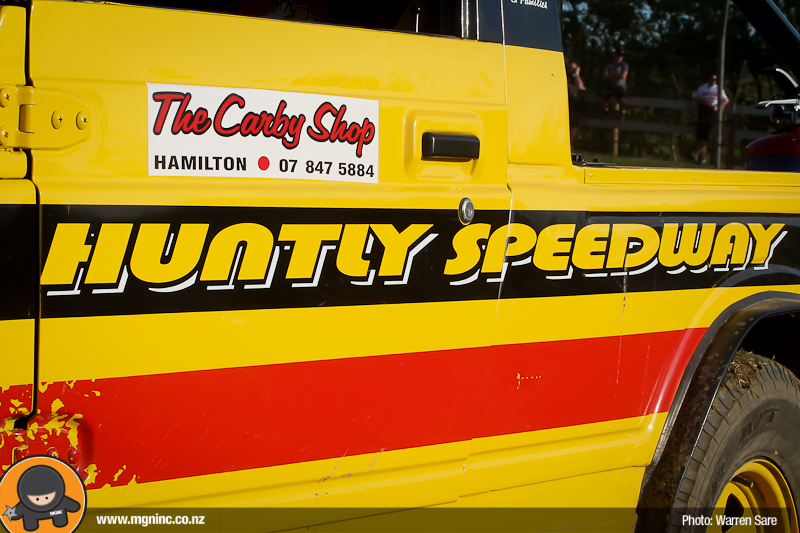 Wandering around the pits, there is still a bit of an early season feel as cars continue to roll out of workshops looking fresh and untouched in preparation for the titles that are fought out over the Dec-Feb period. This is Jared Taylors fresh 41a/3NZ TQ, with the lime green colour it reminded me of the Ghost busters character Slimer and if I took a guess Jared would have been born probably around the same era.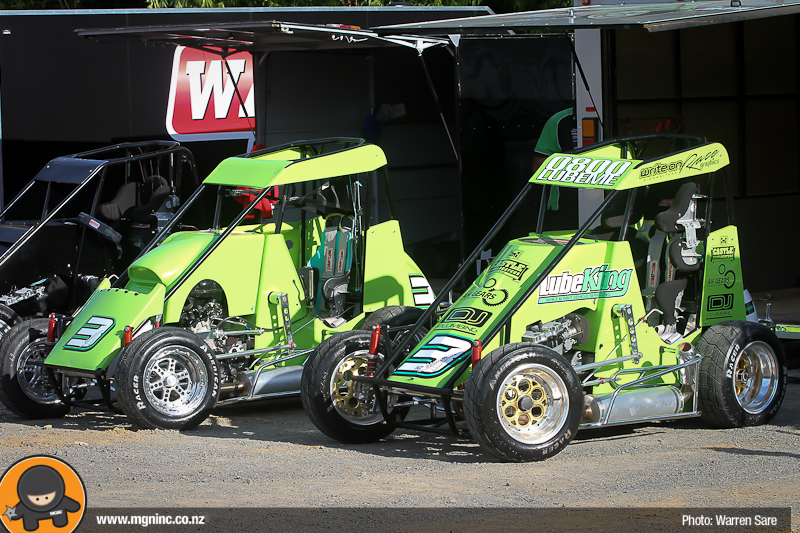 If you get to the track early as you often need to when you're trying to get onto the infield,  you get to watch the warm up laps which is a bit of an experience in itself as one outside track side corner gets taken over by the teams looking through the fence and trying to get a read on the track surface by watching what the dirt is doing. Black art that it might be, there are some experienced eyes and furrowed brows looking through the fence and as a driver, I'd imagine you would feel more  comfortable knowing that some seasoned brains are guiding you.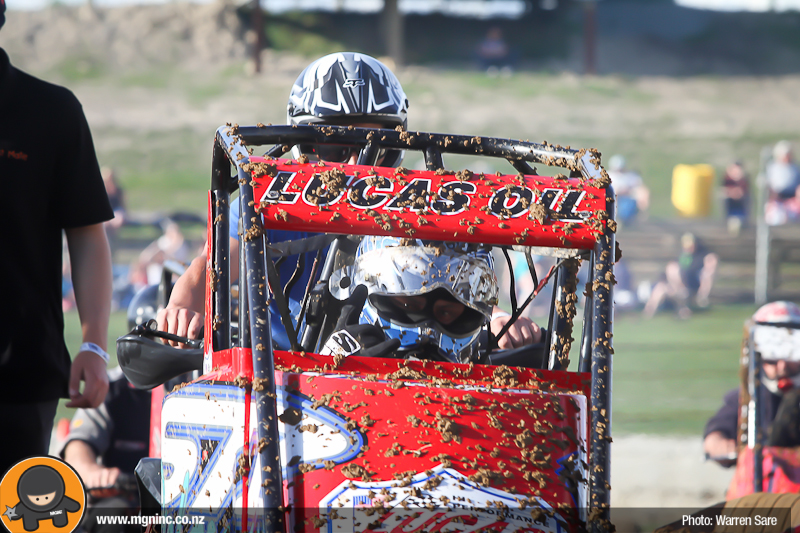 You find all sorts of interesting people at the race track, this gent is apparently good with money. Nice death stare Jase!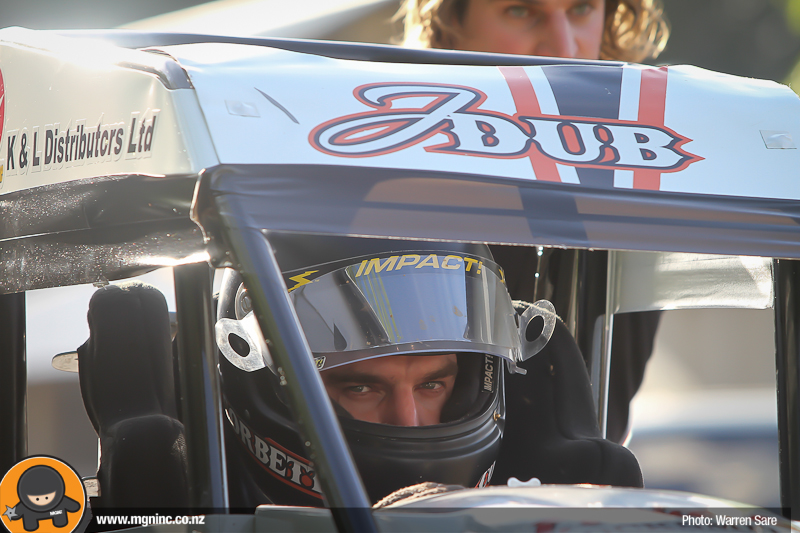 Tyreplus were the naming rights sponsor so played Taxi around the track for some of the visiting stars.  While the top drivers accept that media duties are a part of what they do, you can pretty much tell they just want this part over and done with and would rather be visor  down with steering wheel in hand.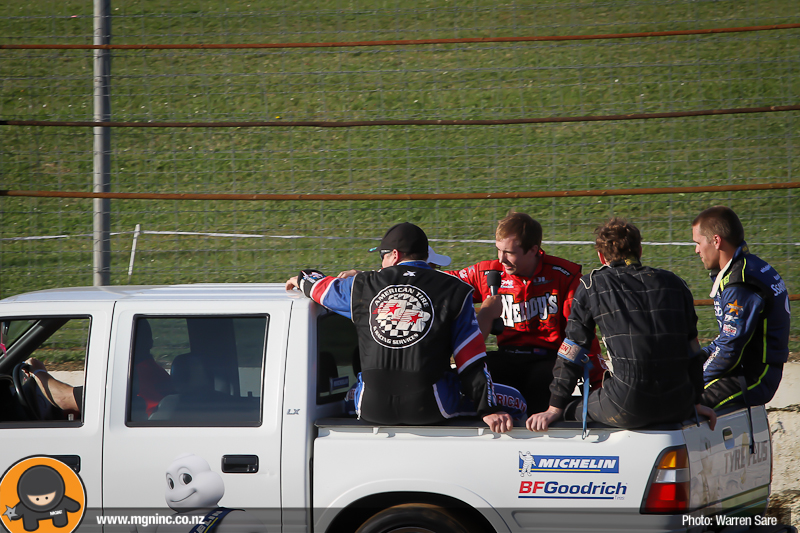 What to do with your Mitsi Galant when you no longer want to get a WOF/Rego….hmmmm, convert it to a production saloon? I'd never seen these before and I suspect they are what you'd call an 'entry level' class. Contact isn't permitted and there was a wide mix of cars including Mitsis, Holdens and Hondas. While there were certainly a few just out there enjoying time on track, a few were going pretty hard trading positions and wanting that black n white flag.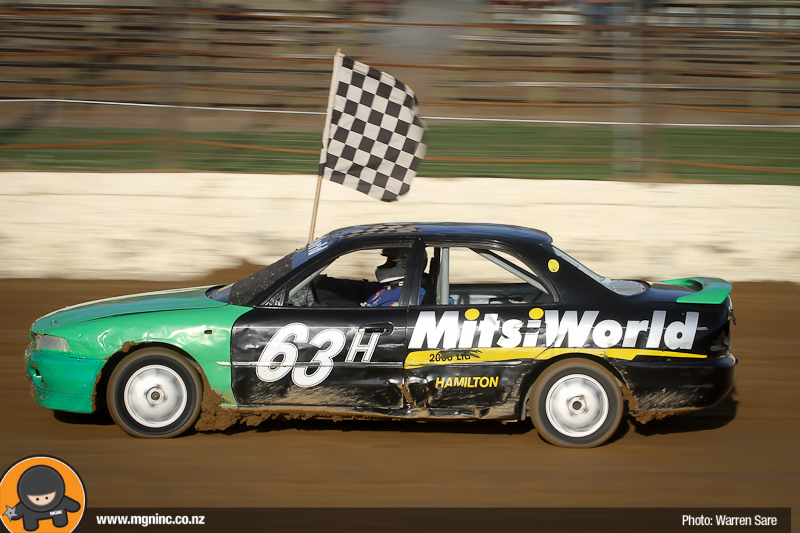 Out come the midgets for heat 1 for group  1 and Chris McCutcheon in the Bearing Wholesale 2NZ would simply drive away. His cause no doubt helped by the fact that Brad Mosen and Dave Gick tangled taking themselves out of the race.  This car always seems to be presented to the very highest standard with a striking colour selection.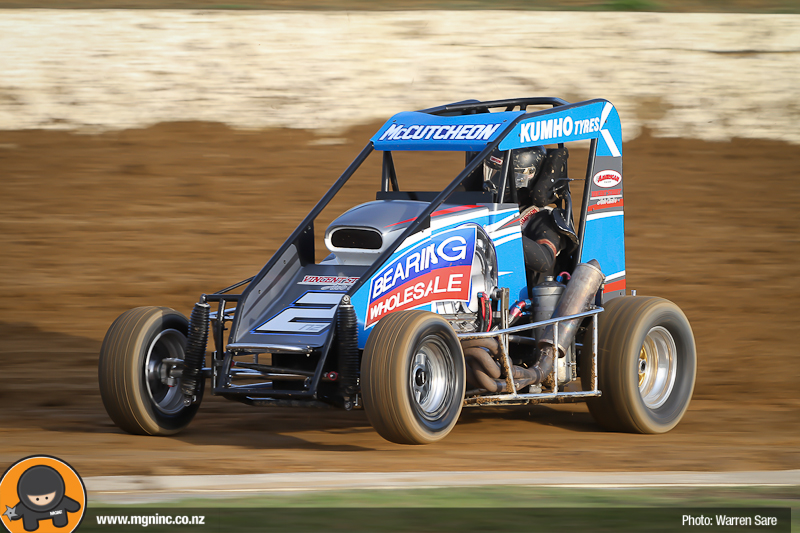 Wayne Green getting a wheel up as he searched for drive in his quest to move through the field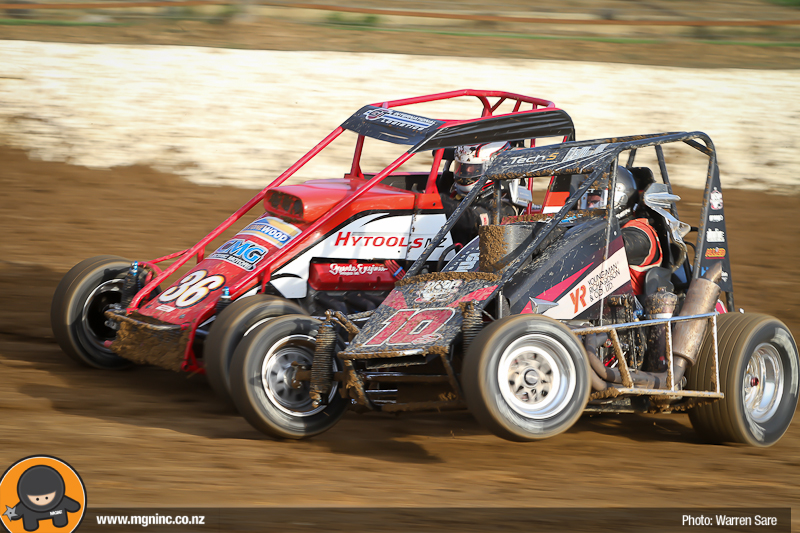 Australian Nathan Smee was behind the wheel of the car that will be driven in the international series by Dave Darland. This guy can flat out drive and has waged some great battles with the top US and Kiwi drivers.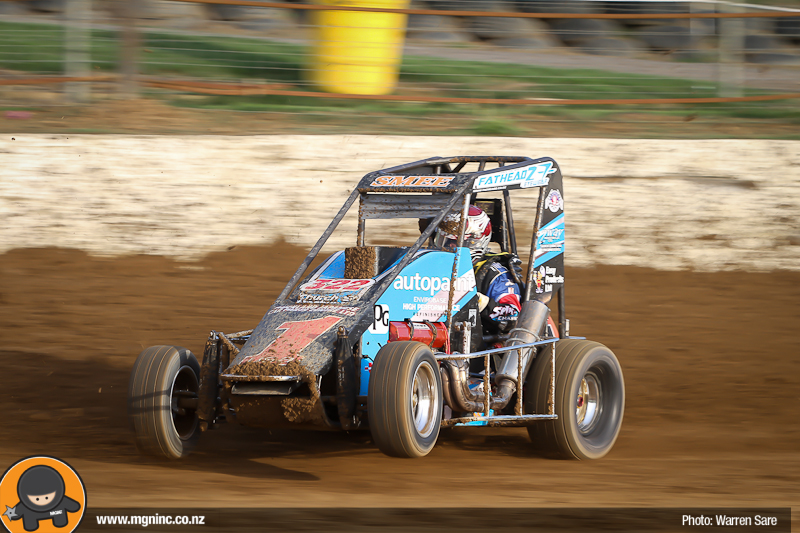 Mini Stocks were also on the program. This is a development class that caters for kids up to 16 years old and it's clear there are plenty in the class who aspire for bigger things. Not to bad a way to advertise a car for sale winning a race.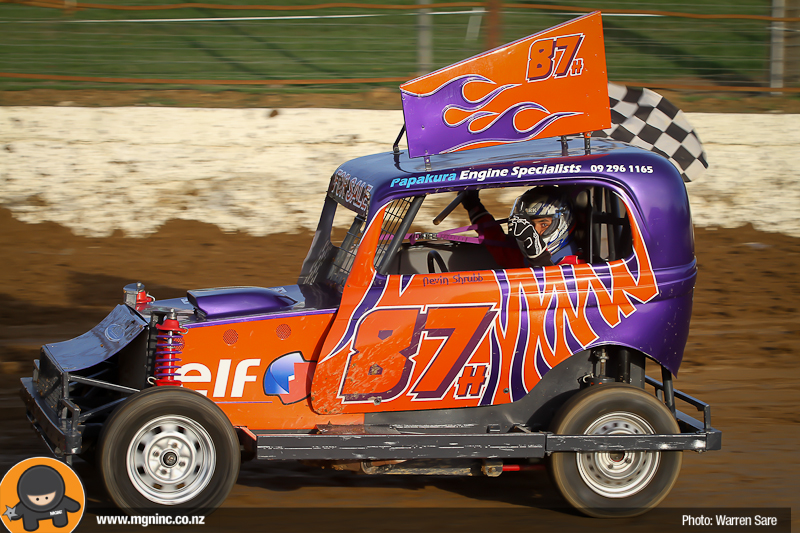 Jared Wade had the 85a looking pretty strong but had a bit of an up and down night, seems to get caught up in other peoples messes a fair bit. Moved from grid 24 in the final through to P12 in the main 40 lap race before pulling pin to preserve his gear for important upcoming races.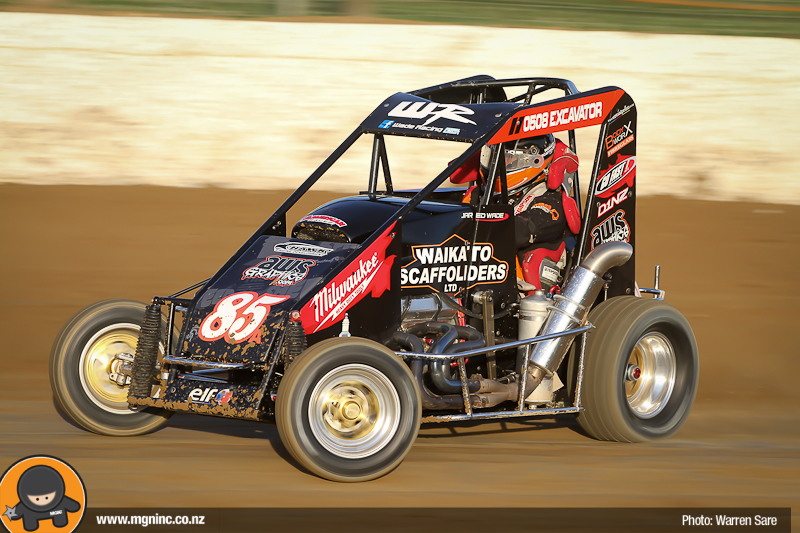 Alvin Cobb had the 5H going well, and would have been hoping for a strong result on his home track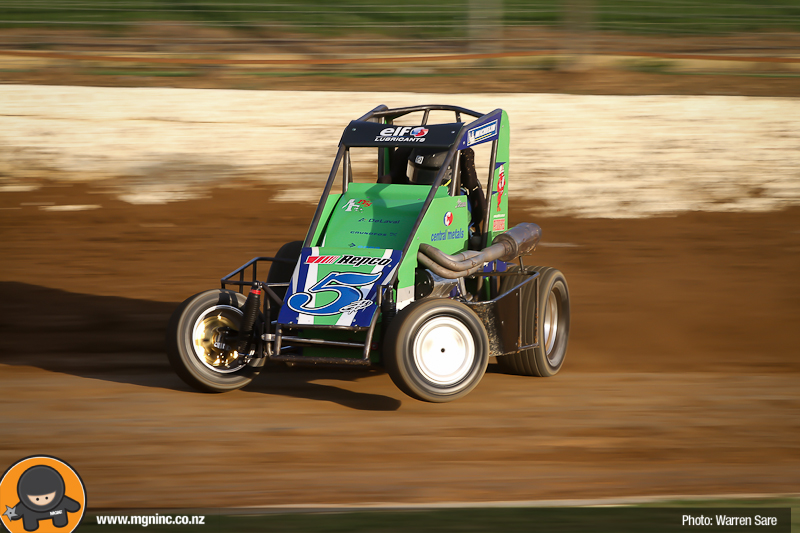 This is the benchmark in NZ Midget racing and true world class racer in Michael 'Slim' Pickens. Pickens is one of those rare talents who seems to be able to find drive where there is nothing, and is completely unafraid to back himself to run a line that puts him right on the edge. Was a real highlight to see him wheel standing off turn 2 and carrying the wheels in drag car style a long way down the straight.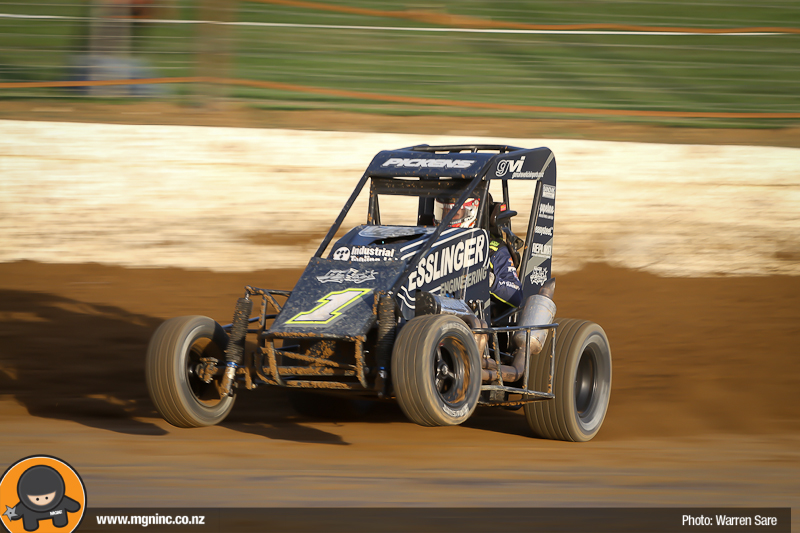 Stockcars are what I grew up on at arena Manawatu and they remain to many the 'heart' of speedway. The crash and bash may be less frequent these days, but it should also be said that it takes a brave man or woman to strap into 1500kg of  steel and engine and then go looking for trouble on wet dirt surrounded by concrete walls.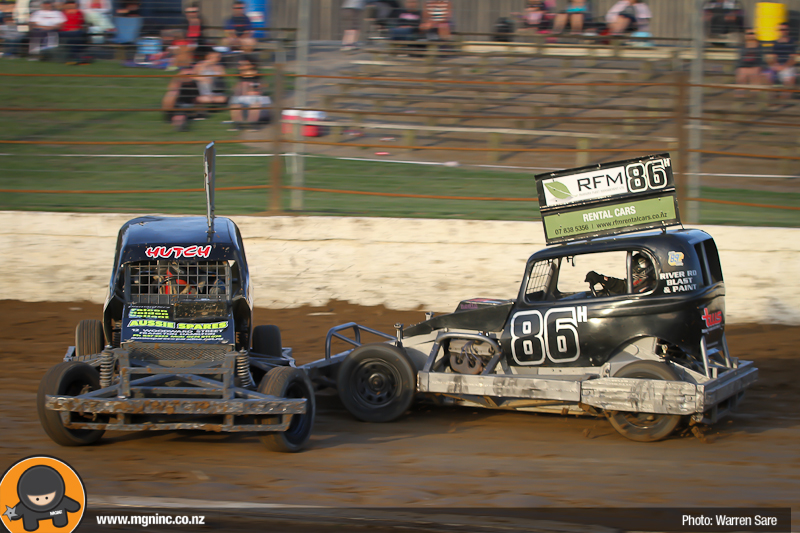 TQs were present in force for the Harris TQ Stampede, and if I'm correct then the Melrose team is actually based out  of Christchurch even tho they register to Auckland. This lady can mix it with the best and was a real contender.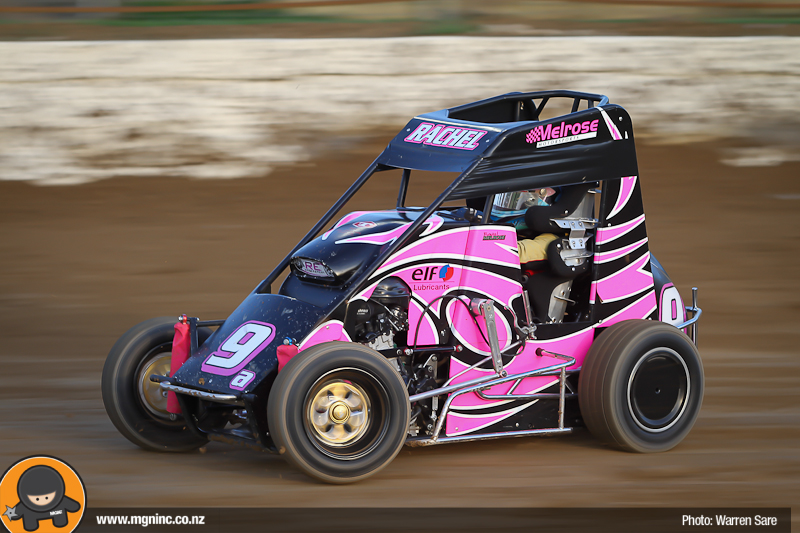 Troy Kete had the 91a TQ simply flying and looked like he'd threaten all night.He did and winning the feature was a great reward for some pretty consistent driving.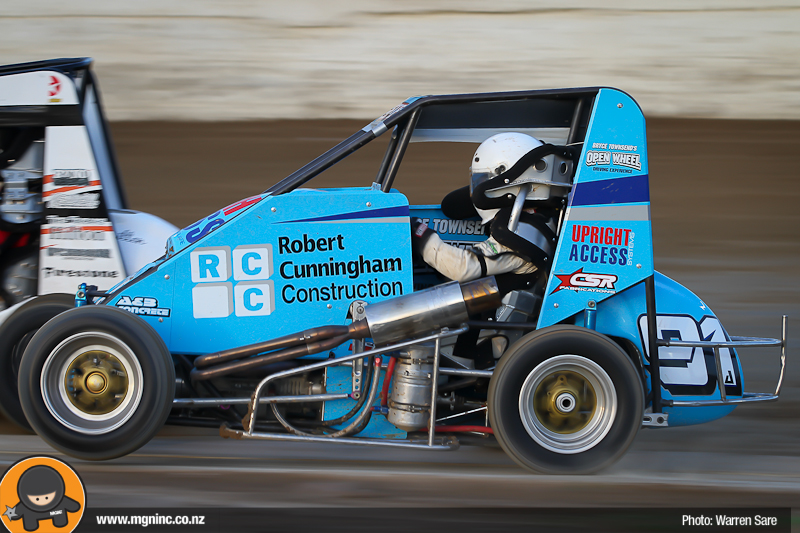 As I mentioned earlier, the production saloons are a real mixed bag. Integras, Preludes and Civics perhaps not what you'd expect to see racing on dirt.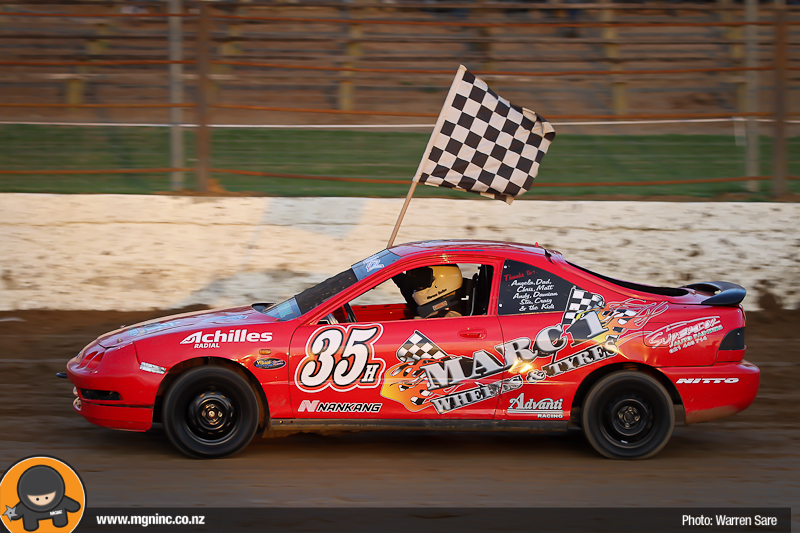 Mike Driver in the 72a midget is actually in whats called the 'F2′ class at Western Springs, and yes, that's a 2l Nissan engine you can see hanging out of that chassis. Went really well and made life hard for some of the big names.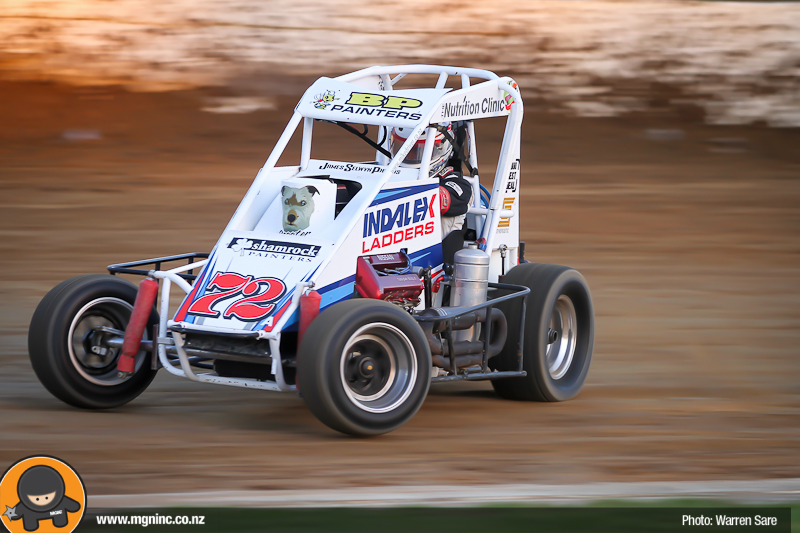 Brad Mosen got caught up early in an incident in his first heat and perhaps it was an omen. It was just one of those nights for the CRC Synergy boys, who would have been wanting to carry some form towards the international series and the major races of the season but couldn't catch a break.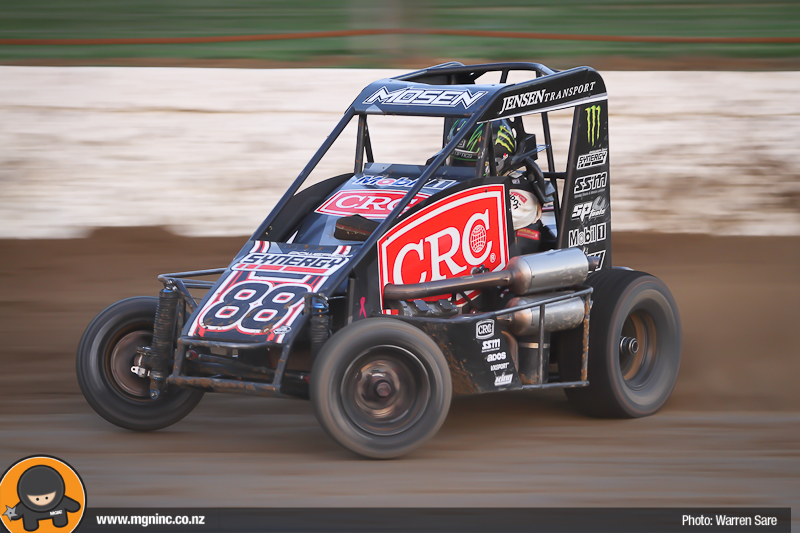 Mini Stocks again, and this guy was charging hard. I see a demon graphics sticker, so perhaps Mr Mosen had been passing on some tips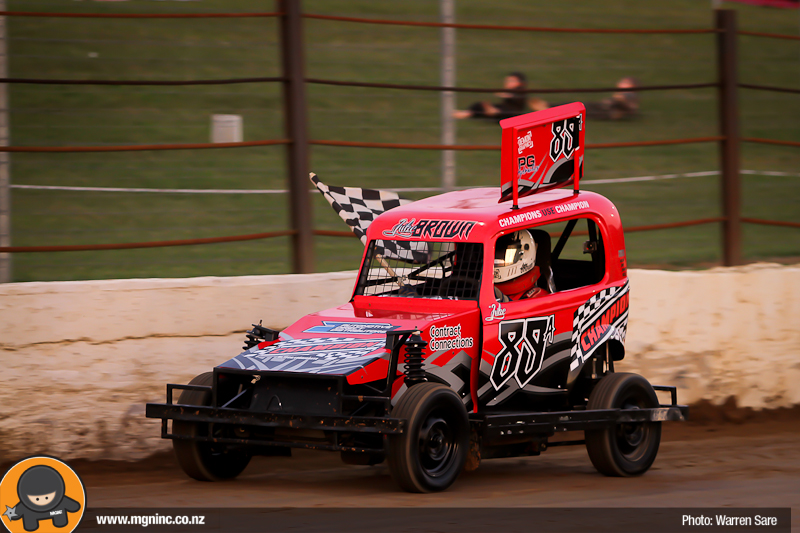 Pickens goes to work in traffic, the mark of a good racer is that ability to manage the impact cars travelling slower can cause.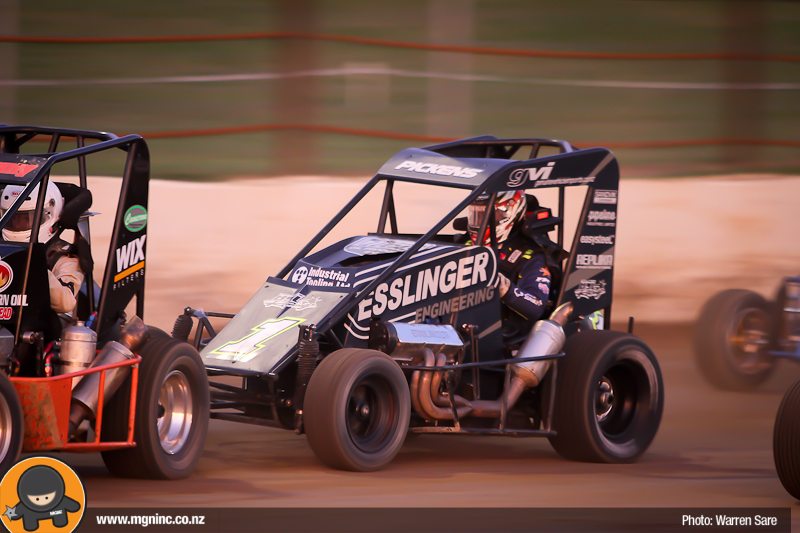 Alex Bright had a storming feature drive to grab 3rd place and looked good once he got some clear track. Pretty confusing to think there will be another car that looks the same, but with a different USA based driver running later in the year.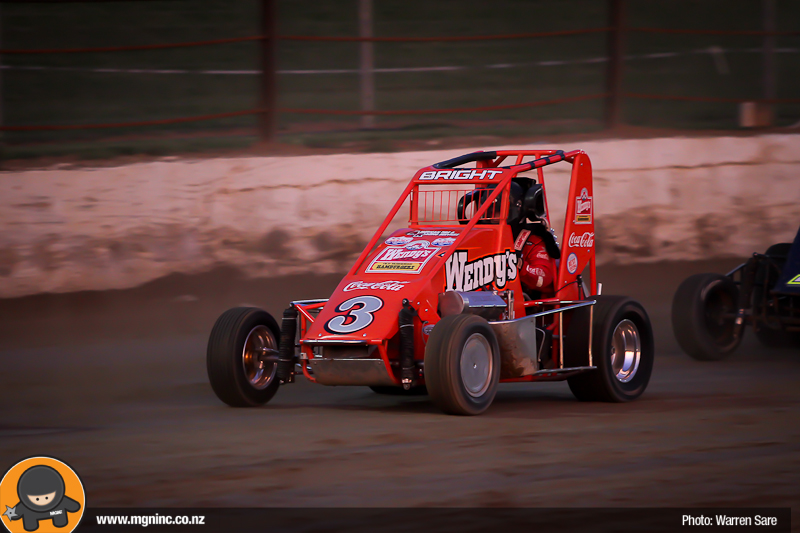 Pickens, Bright and Hayden Williams about to swallow up Rose Halfpenny.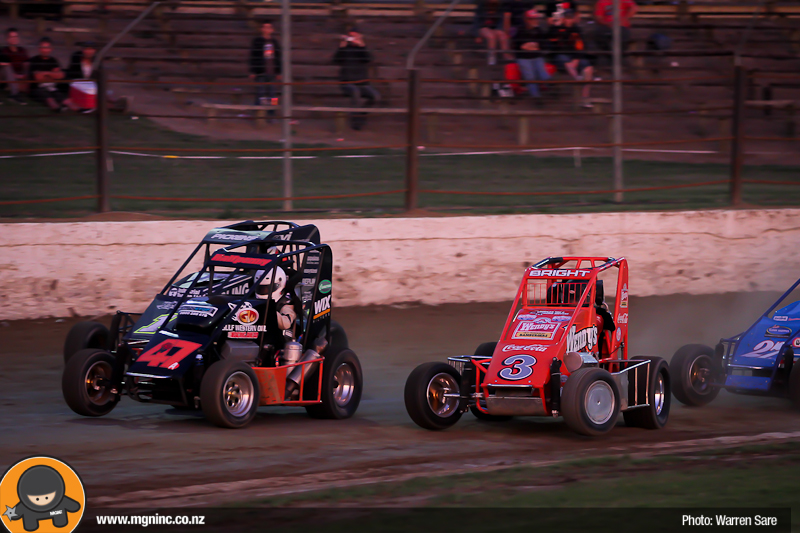 The sunset can be spectacular amidst the smell of methanol fumes and tortured race tires.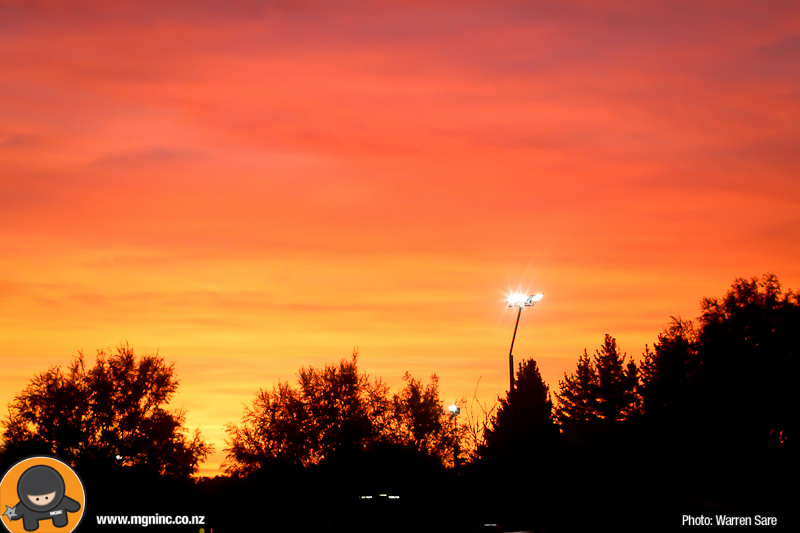 This is generally not the fastest way around the corner in a TQ.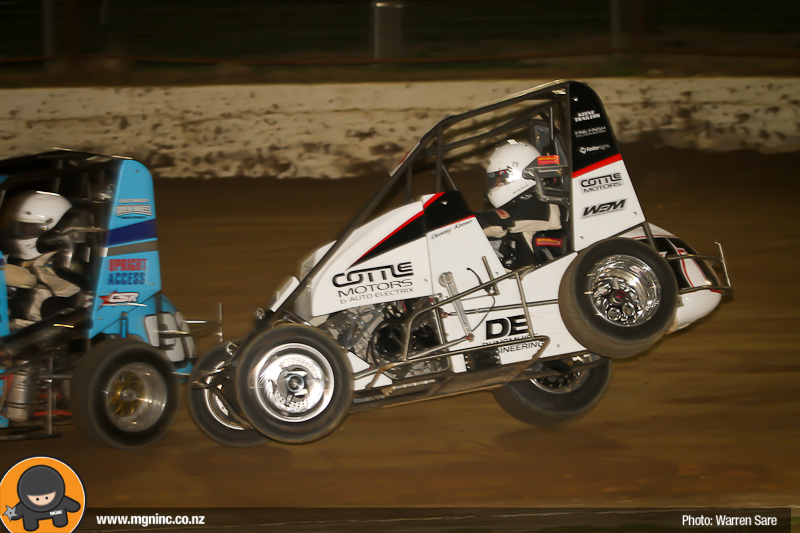 Dylan McGregor looked strong before having a massive wreck in the TQ feature that sent crash crews running. There were several large divots from the tumble and it was great to see the young man emerge unharmed.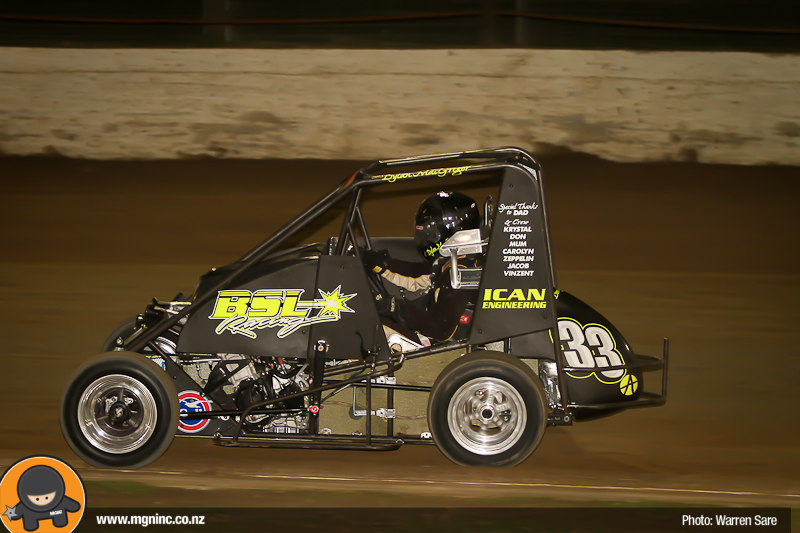 Hayden Williams didn't really feature until the end, he was simply consistent and fast and kept out of trouble.  Gave Pickens a good run in the pole shuffle (a series of 2 lap sprint races between the top 6 )  before the feature and lead for several laps before a slide job would see the Auckland Ssangyong entry get to the front and break away. 2nd Place a good result heading into the important part of the year.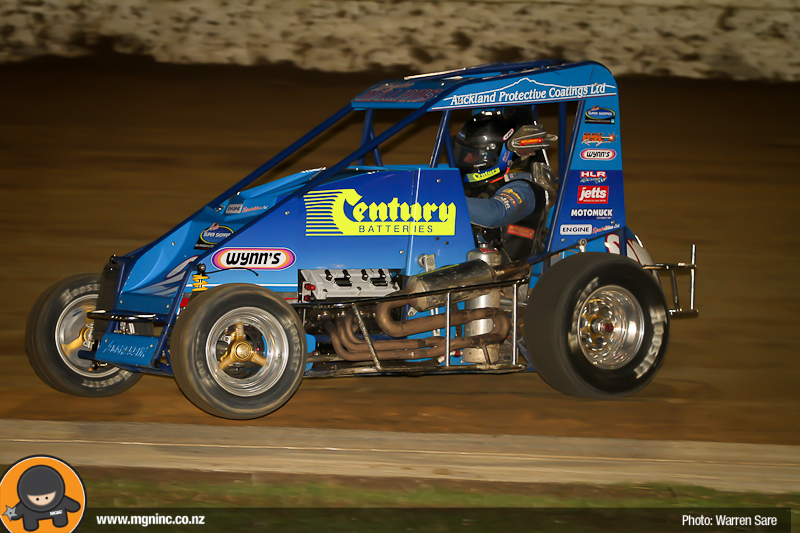 As mentioned earlier, Troy Kete grabbed the TQ Feature at the end of the night.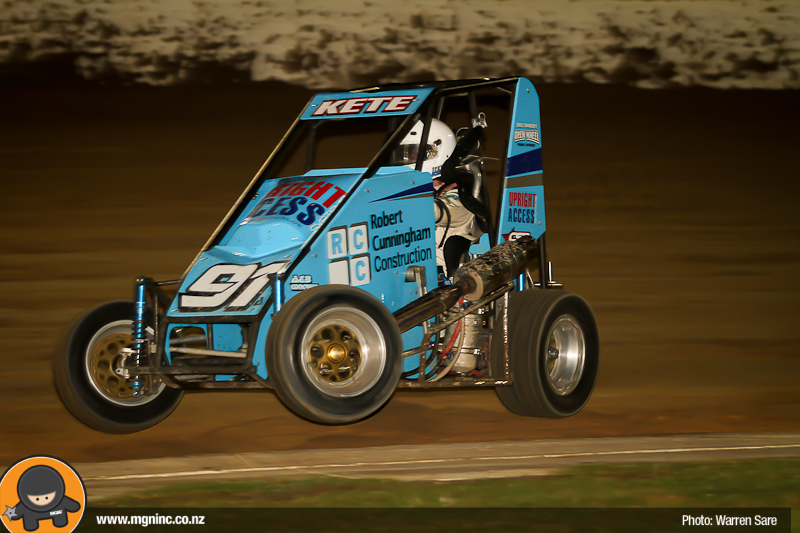 Dave Gick and Alex Bright fought hard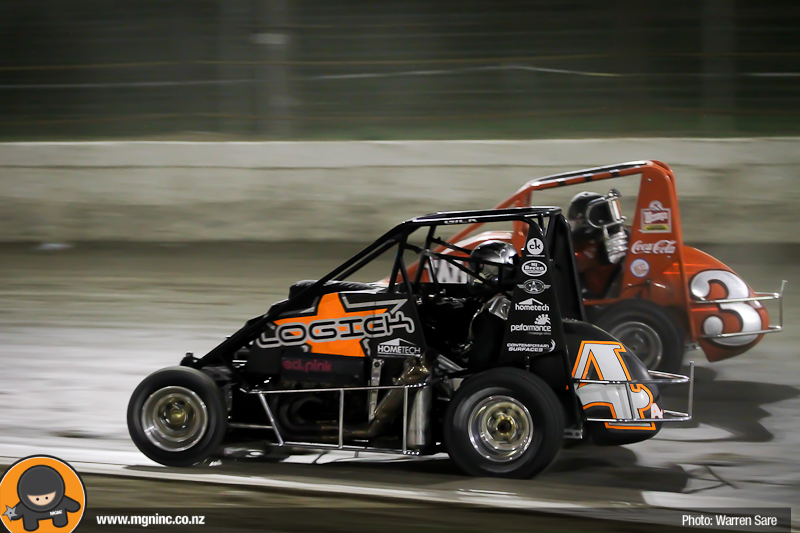 I have to admit, I spent a lot of time watching Shane O'Conner in the feature, simply due to wanting to capture the flame the car was emitting on de-cel into turn 1.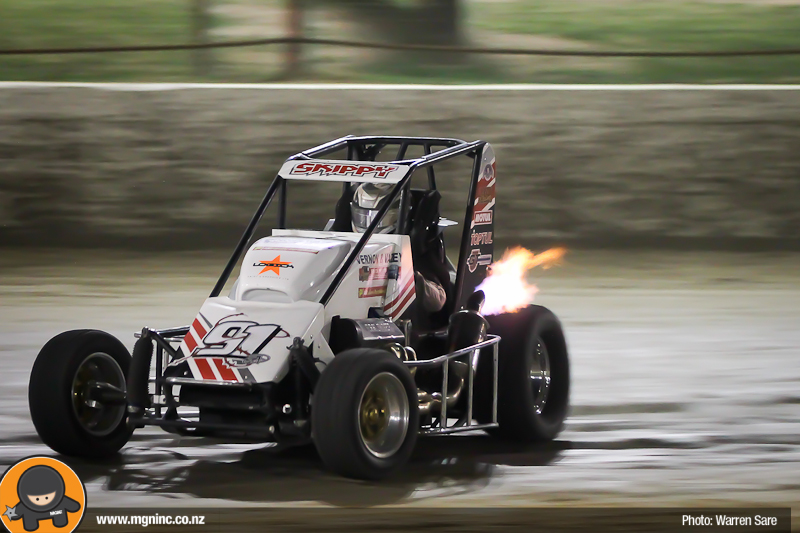 Nathan Smee gets his flame on in the feature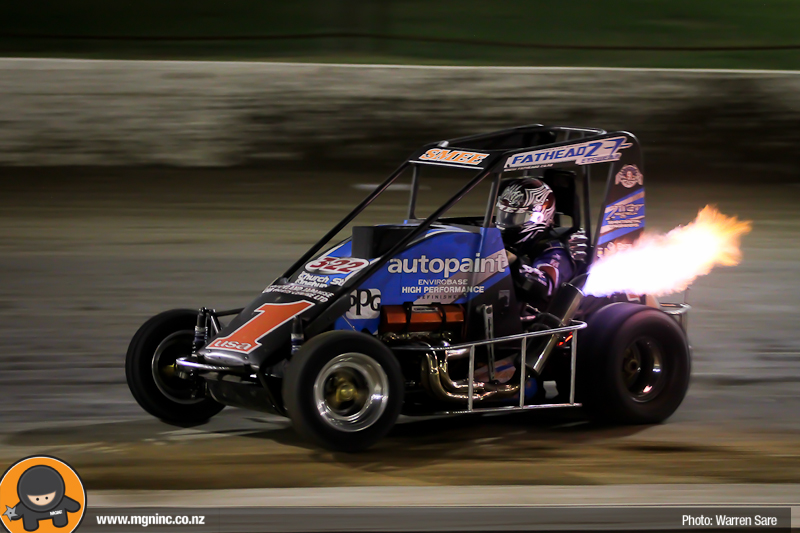 Lead for a lot of laps, and had a great start before falling back as Pickens seemed to find another gear.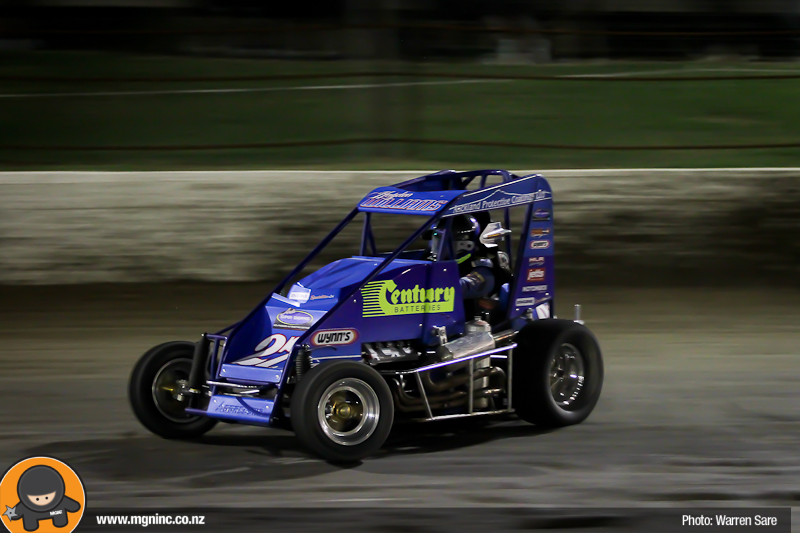 Save the best for last so to speak and only a fool would think that we won't see a fair bit more the #1NZ entry on the podium. Pickens simply a class above currently and will need some stiff international competition or a change of fortunes for others to alter that.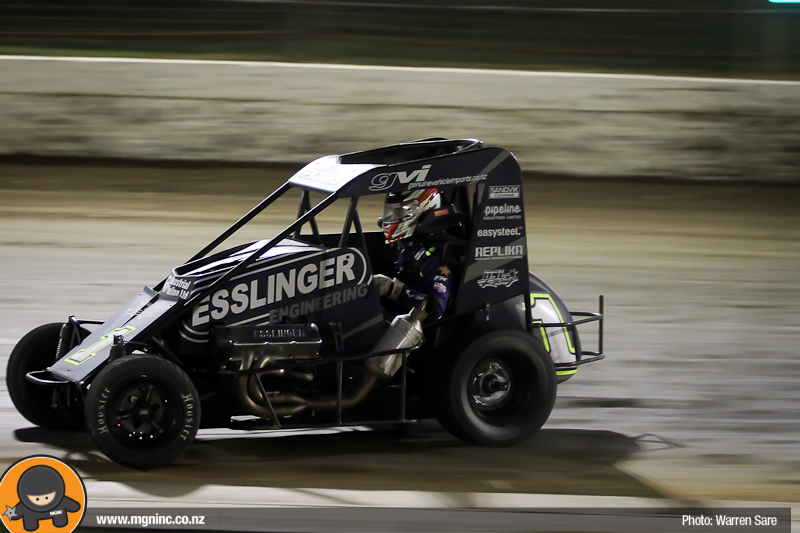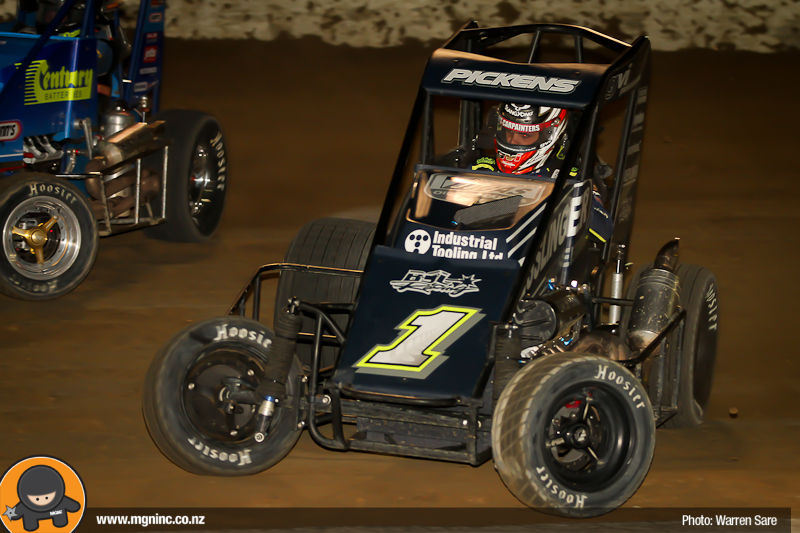 Thanks again to the Waikato Stock and Saloon car club for granting me access and congratulations to all the winners. To others, just being out there means you're doing something many of us can only dream of so race hard and be the very best sport and brand ambassador you can be.
D@mn I enjoyed being out there again.  Sorry some of the pics ain't great, too much time commentating and a bit spoilt by having some very talented mates who shoot other things for me.
*disclaimer- I am by no means a professional at this, and I simply comment on what I see, please don't take offence and if you do…well hey…there is plenty of room in the internet for you to write whatever you want too :)