Dirt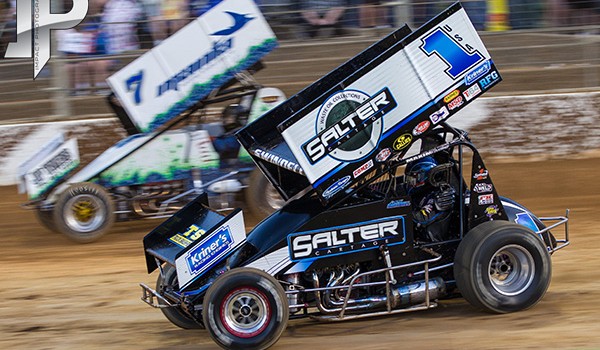 Published on November 25th, 2013 | by mrgrumpyninja
0
Swindell draws first blood for Salter Motorsport
American professional sprintcar racer 'Slamin' Sammy Swindell has kicked off his brief 'working holiday' New Zealand tour with victory in the opening round of the Porter Hire International sprintcar series for 2013.   Driving a brand new (except for the seat) car known as 'Elvis' for Ron & Nat Salter and their Salter Motorsport team, Swindell showed just why he is considered a living legend with result focused drives to nurse home wounded cars in both his first heat and the 30 lap feature race. 
Having raced for over 40 years and amassed well over 100 feature wins , Swindell is an old hand and quickly settles into various media commitments before flipping the switch to 'race mode'. *Image- Victoria Pickett/ Impact Photographix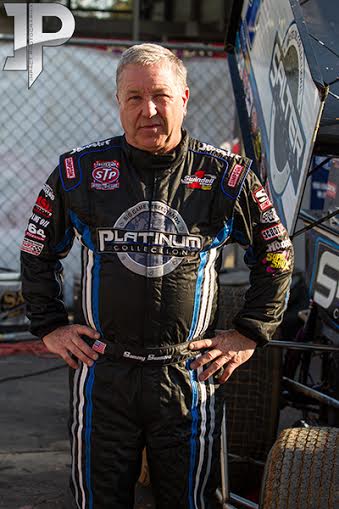 For the uninitiated, Sprint cars might seem strange and perhaps a little bit insane. Take a tiny tubular chassis, fit it with a menthanol drinking flame popping v8 engine producing over 900+ hp and bolt a large wing on top, then wet some dirt and try and keep it under control as you reach 160kmph while sliding towards a concrete wall. Mad men they may well be, the international series  being contested over 2 nights  featuring Swindell, current World of Outlaws champion Donny Schatz in the STP #15Usa and season long semi- resident Jonathan Allard in the Porter Group #0USA as the Americans versus the best of New Zealand's talent is Christmas come early for the dirt track fan.
"It's another track, you just have to drive it" was how Swindell described the surface on Saturday night, which had been subject to a massive 350 tonne re-surface during the week.  The new track producing easily the best racing seen so far this season that will have fans salivating at the thought of showdown this Saturday night between the 3 Americans, with a handful of Kiwis also showing serious intentions of taking the fight to the visitors.
Sammy slides calmly past a competitor , keeping the movements calm and fluid so as not to lose any momentum. Image by Victoria Pickett/ Impact Photographix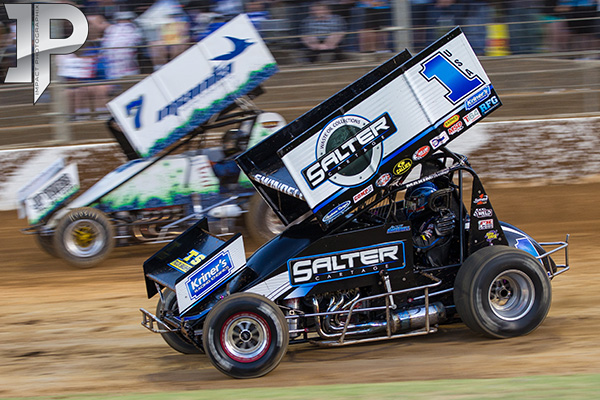 It would be  Swindells night, with 5th place and a 2nd place in his heats before a shoot out dash that produced little movement and had current 3NZ Daniel Eggleton on Pole, with Allard on his outside with 'Elvis' back on row 3 in 6th.  With Allard on the front row and Schatz back in 15th, Swindell played a veterans hand and let the race unfold around him as incidents took care of contenders and Allard spun and ended up at the rear of the pack after requiring a restart (sprintcars are direct drive so require a push to get going) . Once in control the smart money was always going to be on the #1 Salter Cartage car who was going to take some work to catch, let alone get around. Swindell home in First place ahead of a fast finishing Allard who charged back up to 3rd and nearly got 2nd place finisher and current #2NZ Dean Brindle on the line.
Sammy celebrates another one for the trophy cabinet with Brindle (left) and Allard (right) – Image by Victoria Pickett/ Impact Photographix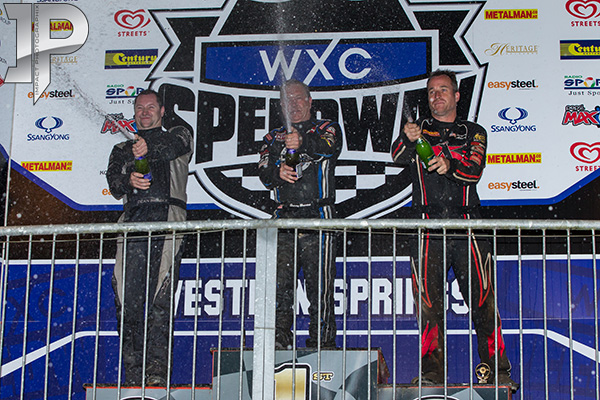 The series concludes this Saturday night at Western Springs, and with the car park nearing capacity by 6 this past weekend, Fans will want to get in early to see how this plays out. Allard will consider himself King of the Springs currently and won't have enjoyed the view from P3,  so expect some fireworks and flying dirt as the Kings with Wings fight it out to hold aloft the series trophy for 2013.
*Images may not be copied or reproduced without permission